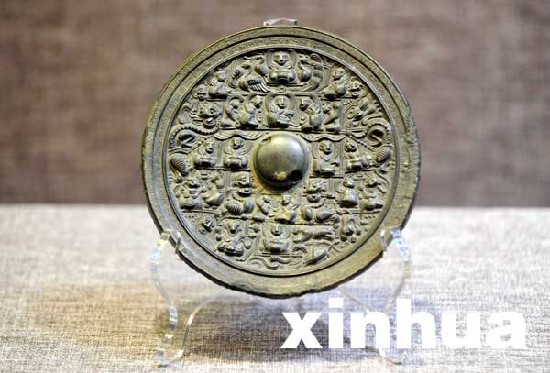 [Photo/Xinhua]
An exhibition of ancient bronze mirrors unearthed during an archeological excavation in Primorsky Kray in Russia's Far East, was opened in Vladivostok on April 8.
About 30 medieval Chinese and Jurchen mirrors and their reproductions are on display at the Educational and Scientific Museum of Far East Federal University with detailed comments made by Russian archeologists explaining the origin and meaning of the drawings as well as inscriptions on the mirrors.
"Mostly, there are bronze mirrors from the Jin Empire - 12th and early 13th centuries," Alexander Popov, director of the museum, told Xinhua.
"The aim of our exhibition is to tell about the mirrors as scientific elements, to convey to the audience that the mirror is a type of chronicle. There are no random things on the mirror. It depicts the myth which reflects the ancient people's view on the world surrounding them," Popov said.
The exhibition organized by Far East Federal University with the support of the Institute of History, Archaeology and Ethnography of the Far Eastern branch of Russian Academy of Sciences, will last until May 6.