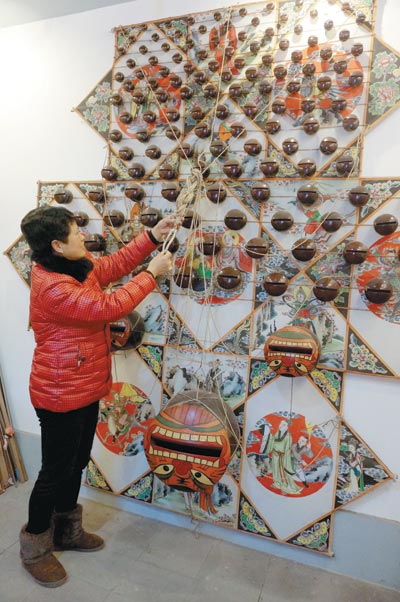 Shan Juan is among a few kite artists specializing in making the traditional Banyao Kite at Rugao, in Nantong, Jiangsu province. Yang Yao / China Daily
They sound like a hundred flutes, playing melodically as they dance among the clouds. As the Nantong whistle kites drift over the fields, you hear them before you see them. Banyao (ban means board and yao means snipe), the large, flat whistling kites, are large and flat with hexagon-shaped frames that flaunt exquisite decorations with vibrant colors.
Shan Juan is a kite specialist and her family is steeped in the traditions of kite art in Rugao, in Nantong, Jiangsu province.
She relishes every opportunity to explain the history of the folk art that was listed as an intangible cultural heritage by the State Council in 2006.
"Banyao kites are different from those in the north - more exquisite and elegant," Shan says. She says the kite is called "yuan (glede, a bird of prey)" in the north and "yao (snipe)" in the south.
"In the sky, the 'snipes' not only dance but also sing songs," she says, noting that the bright colors and the whistles represent aspirations and expectations for a happy life.
Kite-makers usually install between 100 and 300 whistles on each kite, but some kites can have up to 1,000.
"Westerners often call it a symphony of air," Shan says.
The process of making the kites demands a high degree of expertise. There are four basic steps: framing, covering, painting and flying.
The kites are fashioned from bamboo, silk, gourds and rice leaves, and the whistles are made from dried gourds and wood, with a slit carved in the top. They are lashed to a bamboo frame on the front of the kite. The kites are then painted with red, green and white geometric designs, or with dozens of small paintings of legends and scenery.