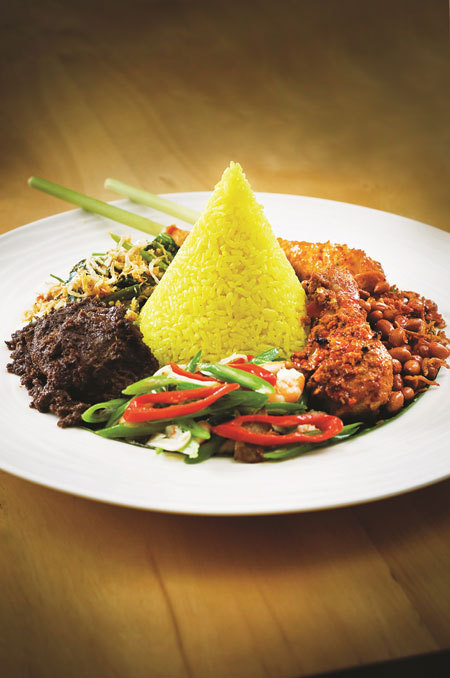 Tumpeng is an Indonesian way of presenting rice in a cone shape, surrounded by side dishes. [Photo/China Daily]
Sweet. Salty. Hot as fire. Whatever your taste, Indonesia's cuisine offers an array of flavors to explore. Mike Peters chows down for a savory buffet.
Often when a country observes a big political anniversary, the focus is heavy with speeches and deal signings and other formalities. Indonesia, a land of more than 13,000 islands and 300-plus ethnic cultures, is marking its 65th anniversary of diplomatic relations with China by feasting for several days in Beijing.
Diverse geography and centuries of sea trading have produced a world of good eating, says Indonesian chef Budiyana Ramelan, who leads a team of chefs from the Kempinski Jakarta that's cooking up the ongoing Indonesia Food Festival in China's capital. "It's not all hot spicy," he says. "In Java, much of our food is sweet. In Sumatra, it's famously hot. Other Indonesian dishes are salty, or some combination with different layers of taste.
Beef rendang, for example, builds flavor from what seems like an entire spice cabinet. There is ginger, galangal, lime leaf, turmeric, cumin, cinnamon, cloves, star anise and more in what is probably the nation's most famous dish.
"It needs to simmer for seven hours," insists the man known as "Chef Budi". Then, he says, put it in the refrigerator and reheat to serve the next day. "That's the way to bring out all of the flavor."
There is no authoritative account of rendang's origins, but documents from 3 centuries ago show that haj pilgrims from Minangkabau carried rendang among the provisions for their long trip to Mecca. Rendang lasts for a long time, according to the Wonderful Indonesia cookbook produced by the country's tourism ministry, because slow braising "perfectly caramelizes" the meat.