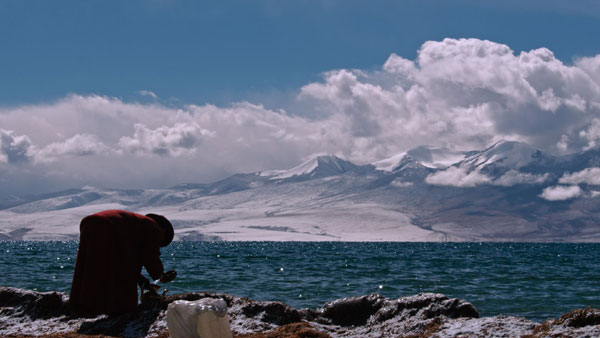 Documentary film Roof of the World shows details about everyday lives and natural landscapes on the Qinghai-Tibet Plateau. [Photo provided to China Daily]
A documentary on Tibet has taken China by storm by simply showing the lives of ordinary people in a remote part of the world. Han Bingbin reports.
Documentaries aren't really popular in China, but a recent film on the Tibet autonomous region has garnered a surprising amount of attention thanks to its unconventional approach to filming the place.
In Roof of the World, a production by China Central Television, grand narratives and political themes are cast aside in favor of showing rich details about the everyday lives and natural landscapes on the Qinghai-Tibet Plateau, which has attracted a younger audience.
On Youku.com, one of China's largest video streaming sites, the documentary has had more than 25 million views since its debut earlier this month. It is the second most watched locally produced documentary, after the phenomenally popular A Bite of China series. The Tibet documentary has a rating of 9.1 out of 10 on Douban.com, China's largest film review site.
"We were very worried in the beginning. We certainly know it's a good production. But nowadays young people are more into fast-food kind of videos, not something that needs you to sit quietly, to feel," says Wang Yan, director of Youku's information center.
The success of Roof of the World demonstrates that audiences still have a strong appetite for good documentaries, says Wang Weilai, chief producer of the film. He says that the documentary also led to an unexpected growth of young viewership despite its premiere on CCTV's Chinese international channel, which traditionally targets middle-aged viewers.
On April 10, Roof also started its run on CCTV 9, the country's most authoritative documentary channel best known for its well-curatored lineup of foreign classics. Some viewers had actually mistaken Roof for a foreign production, says Wang, because of its narrative and filming styles.