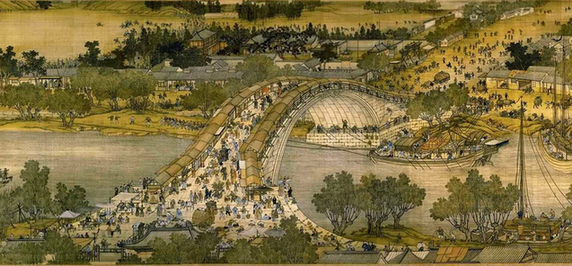 A part of the painting Along the River During the Qingming Festival shows the scenes in Song Dynasty (960-1279). [Photo from web]
The Song Dynasties, a new documentary to be aired on China Central Television in 2015 and 2016, is expected to shed some light on the successes and failures of one of China's most powerful historical periods in terms of economy and culture.
Shooting started on Nov 16 in Kaifeng of Henan province, which was the capital of the Northern Song Dynasty (960-1127). The 20-episode documentary will be presented in two seasons, with the second season being about the Southern Song Dynasty (1127-1279). The film will unfold the historical panorama by displaying the process of important events and decisions and the lives of leading figures.
The film reflects the period's unique features in terms of political and cultural management, and it can provide some references for the management of a modern country, said Liu Xiaoli, chairman of the documentary committee under China Television Artists Association.