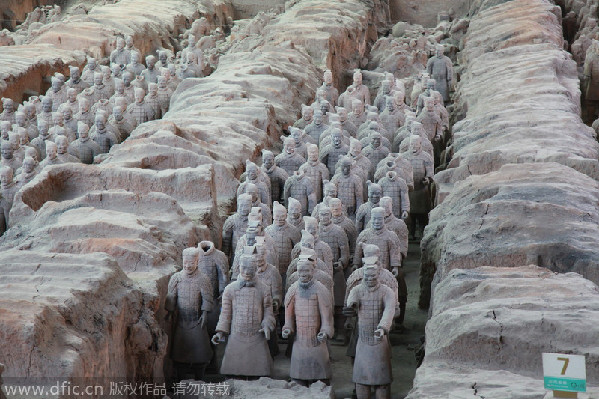 Terracotta Warriors are seen exhibited at the No.1 Pit of the Museum of the Terra-cotta Warriors and Horses of Qin Shihuang in Xi'an city, Shaanxi province. [Photo/IC]
New Secrets of the Terracotta Warriors, a documentary co-filmed by Britain's Lion Television and China Hong Kong's Phoenix Television, recently won the "Best Public Presentation of Archaeology" award from the "British Archaeological Awards 2014". The award winners were announced at a ceremony in the British Museum on July 14.
The documentary was first broadcasted on BBC Channel 4 on Dec 8 as part of Channel 4's Secret History series. It was very popular among British audiences, and achieved nearly 3 million audience ratings in the same time frame, the highest record in Britain.
The story is based on research by a team from the UCL (University College London)Institute of Archaeology, in collaboration with colleagues from the Emperor Qin Shihuang's Mausoleum Site Museum in China.
The discovery of China's Terracotta Warriors in 1974 captured the imagination of the world. But that first dig only revealed a fraction of this enormous and extraordinary treasure.
Since then, scientists have resumed work on the site and their research has turned up a series of new discoveries about the warriors and the people who made them.
This documentary has exclusive access to the latest discoveries. Among the many new findings, the film reveals the true extent of the site and number of warriors and that the weapons carried by the warriors were full military grade, rather than replicas.
According to Chinanews.com, the most striking part of the documentary is that it reproduces the vivid scene of the manufacturing process of weapons in the workshops in the Qin Dynasty.
It brings new insights into how the figures were made, including revolutionary 3D computer modeling of the warriors' heads. It challenges the traditional explanation and changes audiences' understanding of how sophisticated technology and society were in ancient China.
Established in 1976, the British Archaeological Awards are a showcase for the best in UK archaeology and a central event in the archaeological calendar.