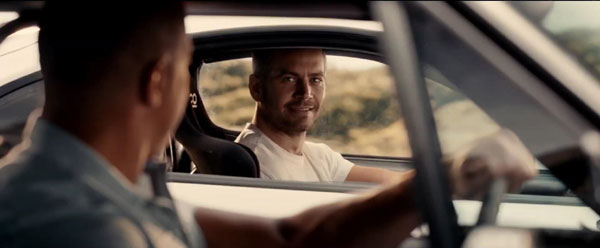 Paul Walker's last film, Fast and Furious 7, wins great success at the Chinese box office, making 425 million yuan ($68.5 million) on Sunday. [Photo provided to China Daily]
Fast & Furious 7 breaks Chinese box-office records as millions flock to theaters, Xu Fan reports.
The high-octane Fast and Furious 7 has lived up to its reputation, making 425 million yuan ($68.5 million) on Sunday, when it broke both first-day and single-day records for the Chinese box office. About 1.3 million moviegoers flocked to the midnight release on Sunday across more than 65 percent of the country's 23,600 theaters.
The movie broke the first-day record of 223 million yuan set by Transformers: Age of Extinction last June, and the single-day record of 373 million yuan mainly taken by homegrown blockbusters on the first day of Chinese Lunar New Year on Feb 19.
By Wednesday morning, Fast and Furious 7, starring the late Paul Walker, had taken nearly 730 million yuan at the box office, followed by the Chinese 3-D action film Wolf Warriors at 450 million yuan and the romance Let's Get Married at 275 million yuan, according to Piaofang168.net, an online provider of real-time box-office information.
Even cold winds and some rainfall in Beijing on Sunday night failed to deter moviegoers' from lining up to see Walker's last screen performance.
Walker, 40, died in a high-speed car crash in the United States in November 2013.
Zeng Maojun, president of Wanda Cinemas, China's largest theater operator by number of screens, says the chain had increased screenings because tickets had sold out quickly.
Though the spectacular success of the movie in a traditionally low season gives Chinese cinemas reason to cheer, it stands to pile pressure on harried Chinese moviemakers.
Feng Xiaogang, one of the most commercially successful directors, says that with Fast and Furious 7's enormous box-office takings, the market will become more competitive for Chinese directors.