The Victoria and Albert Museum has a collection of more than 18,000 Chinese antiquities. For the Chinese who want to study these works of art from home, it's not necessary to travel to London. The first volume of a just-published book series,Selected Overseas Chinese Cultural Relics, catalogs 195 pieces and sets of the V&A's Chinese art collection.
The National Museum of China initiated an ambitious project in 2005 to publish Chinese treasures kept at museums abroad. The V&A book marks its first achievement after an eight-year effort by scholars from the two museums.
Martin Roth, the V&A's director, wrote in the book's preface that by the time the South Kensington Museum, which was later renamed the V&A, was established in the mid-19th century, Chinese products had become a part of the British people's life. The book illustrates how people enjoyed, treasured and studied Chinese works of art.
The book contains ceramics, bronzeware and lacquer items from several important British collectors, whose donations enriched the V&A's storage and displays.
NMC Director Lyu Zhangshen says the upcoming second volume will scan the Chinese art kept at Japan's Sumitomo Izumiya Museum. The museum boasts more than 3,000 pieces of Chinese bronze ware and paintings, mostly from the Sumitomo's family collection. It's headquartered in Kyoto, with a branch in Tokyo.
The NMA also speeds up its collaboration with the British Museum, Museum of Fine Arts, Boston and Paris' Guimet Museum on the book series, Lyu adds.
Here are a selection of antiquities featured in the V&A book: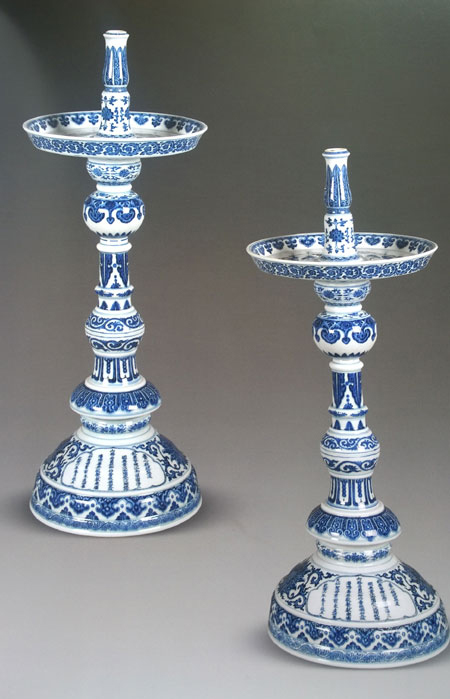 [Photo provided to chinadaily.com.cn]
A pair of qinghua flower-patterned candle holders
These Qing (1644-1911) qinghua (underglaze blue) candle holders exemplify the sophistication of ceramics dating to the Emperor Qianlong period. The workmanship represents the height of Tang Kiln products, named after Tang Ying (1682-1756) the celebrated superintendent of official kilns. They were from the collection of Stephen W. Bushell (1844-1908). The English physician arrived in Beijing in 1868 and spent three decades in China. He frequented Beijing's antique stores, from which he built his expertise in ceramics and accumulated his own collection. Bushell purchased 253 pieces of Chinese art in 1883 on behalf of the South Kensington Museum. He wrote Chinese Art, a 1904 book that introduces the V&A's collection. Its Chinese version rolled off the press in 1923.