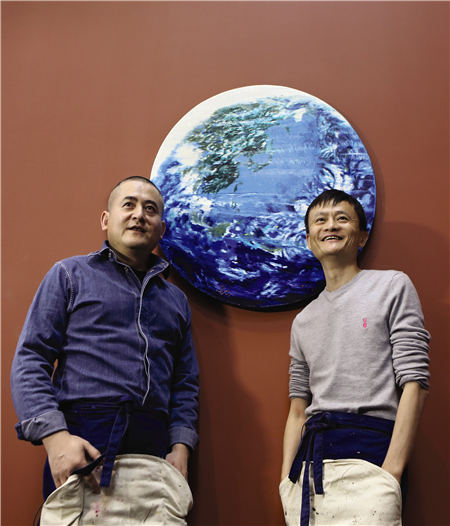 Zeng Fanzhi and Jack Ma co-created an oil painting, titled Paradise, which sold at Sotheby's for $5.4 million in Hong Kong on Oct 4. Photos provided to China Daily
Famous folks like Jack Ma attract a lot of cash when their paintings are sold at charity auctions. 'Real' painters sometimes are less than thrilled, Deng Zhangyu reports.
E-commerce tycoon Jack Ma shook the nerve of China's art world after his oil painting Paradise, which he created with well-known artist Zeng Fanzhi, sold at Sotheby's for $5.4 million in Hong Kong on Oct 4, the third on the top 10 lots of that night. The first was Japanese painter Kusama Yayoi's work that sold at $7 million.
According to Kevin Ching, CEO of Sotheby's Asia, Ma's painting got more than 30 bids and the final bid was 17 times its original estimated price. All the proceeds went to the Paradise International Foundation, an environmental campaign group supported by Ma and fellow entrepreneurs such as Tencent founder Ma Huateng and movie mogul Wang Zhongjun.
The collective effort depicting the Earth on a circular canvas in blue and white won Ma the nickname of "Ma Liang" on social media after a Chinese folktale figure who can paint things into reality.
In Sotheby's catalog promoting the auction, Ma wrote, "This is my first time to paint, I feel very good". He added that it's for protection of the Earth, oceans, air and water.
Although it's the first time that Ma has painted in oil, it's not his first painting to go on sale.
In 2013, Ma said that if the number of buyers went to his online shopping platform Taobao.com on Dec 12-a day many online shops offer 50 percent discounts for buyers-exceeded 100,000, he would create an ink painting. The final number was nearly 400,000, according to media reports.