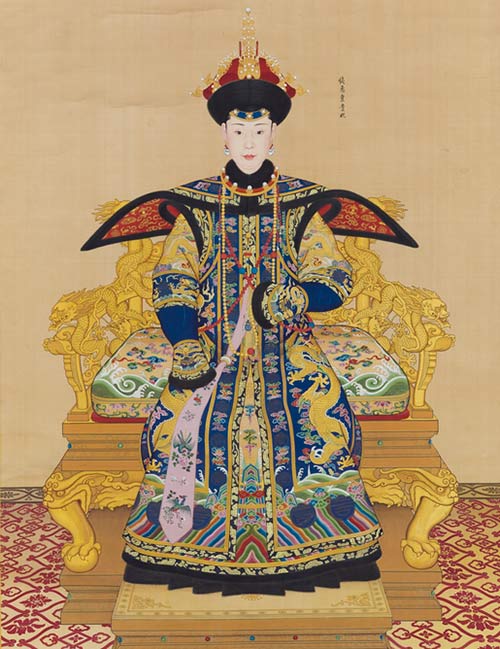 A Large Imperial Portrait of Consort Chunhui by Giuseppe Castiglione. [Photo/Sotheby's]
A Large Imperial Portrait of Consort Chunhui by court painter Giuseppe Castiglione of the Qing Dynasty's Qianlong Period, this week sold for $HK 137.4 million ($17.7 million), the highest auction record for a Chinese imperial tailoring portrait.
The portrait, painted by Italian painter Giuseppe Castiglione and others, was auctioned at a Sotheby's autumn sale in Hong Kong on Wednesday.
As a rarely seen, large-size portrait by Castiglione, it is also the only known portrait of Consort Chunhui in a court robe. It has title calligraphy by Emperor Qianlong, which may have been written after Chunhui's death as a way for him to pay tribute to the deceased imperial concubine.
The previous record for imperial tailoring portraits is the Half-length Portrait of Consort Chunhui by Castiglione, which sold for HK$ 39.86 million ($5.14 million) in May 2012 during a Bonhams sale in Hong Kong.
As a favored painter of Emperor Qianlong, Giuseppe Castiglione painted most of the portraits of the emperor and his concubines. But as almost all of Giuseppe Castiglione's paintings are in museums, they are rarely available on the market.