Beer and good cheer highlight Oktoberfest parties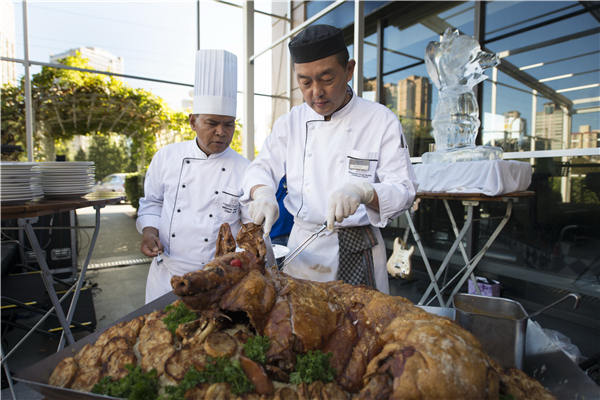 Chefs wow the opening-night crowd with a roast suckling pig made specially for the occasion. Provided To China Daily
The Lord Mayor of Munich kicked off the world's most famous beer festival back on Sept 19, but Oktoberfest continues around the world well into its namesake month. Why so long? For one thing, there is big demand for those Bavarian oom-pah bands at global Oktoberfest celebrations, and they can't be everywhere at once. At Kempinski hotels around China, for example, they started rolling out the beer barrels in Jiangsu on Aug 26, and the chain's last Oktoberfest parties in China will be in Changsha (Oct 16-21), Beijing (ongoing through Oct 23) and Harbin (Nov 4-14).
Like many beery good parties, the first Oktoberfest happened at a wedding - in Munich in 1810, when Crown Prince Ludwig (later to become King Ludwig I), wed Princess Therese of Saxony-Hildburghausen.
Hotels and German restaurants around China are awash in beer during this season. Hong Kong's longest-running outdoor Oktoberfest returns for a 23rd year at the Marco Polo hotel from Oct 16 to Nov 7, with lots of German nibbles, beer and dancing to the Bavarian tunes of The Notenhobler.
The tradition in the Chinese mainland began 23 years ago when the Kempinski opened its Beijing hotel.
At the Paulaner brewhouse there, Austrian brewmaster Wolfgang Sesser makes a special Oktoberfest beer for the month. "We served 7,820 liters of beer, mostly the Oktoberfest beer, during the event in 2014, to more than 5,000 guests," he says. This year the hotel has expanded the size of the party tent to accommodate 480 seats, and Sesser has brewed 14 batches of the brew (that's 14,000 liters) in anticipation of more than 7,000 guests by the end of the month.
Chef Christian Meinhardt wowed Thursday's opening-night crowd with a roast suckling pig made specially for the occasion, and revelers enjoyed a cool night in the party tent, playing games such as sliding beer mugs on a long, soapy table to see who could get closest to the end - an Oktoberfest twist on shuffleboard.
If an Oktoberfest event is in your plans this month, here is a little Bavarian vocabulary to impress your friends (courtesy of the Munich Oktoberfest website):
Schuhplattler - (u as in shoe): A folk dance where performers clap the soles of their shoes with their palms while skipping up in the air.
Lebkuchenherz: A gingerbread heart heavily decorated with sweets and writing in icing sugar.
Knoed'l - (kn?dl): A dumpling
Eisbein - (icebine): A leg of pork
Jaus'n - (ya'sn): A snack, mostly consisting of ham, sausage, cheese, bread, and perhaps some radish
Dirndl - (i as in fit): The traditional dress ladies wear in alpine regions. It allows them to display their female loveliness pushed up over the low-cut rim of a generous neckline. Dirndl also simply means "girl".
Lederhosn: Robust trousers made of leather featuring a buttoned front, often embroidered for beautification. The more worn, the more treasured lederhosn become. Some have been passed on over generations.
michaelpeters@chinadaily.com.cn