An artist and poet who draws inspiration from business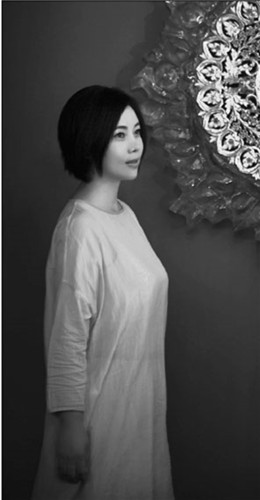 Fu Yiqing. [Photo provided to China Daily]
Fu Yiqing's life has many facets. She runs a successful interior decoration business, and travels to scores of countries to learn about local handicraft skills. Her installation art works have drawn huge crowds and more than 90,000 saw her work at the capital's China World Center last month.
But she admits she is mostly known as the poet who "wears Prada and talks about Socrates". She writes poems to balance her "conflicting, yet happy and colorful" life between the business and art worlds.
The "Prada" image she portrays is from the first line of Andante, one of the 35 poems in her phenomenal debut 35 Times Smooth Drifts published by Writers Publishing House, which has a long tradition of publishing literary masters.
The book, chicly designed by award-winning Zhu Yingchun, is wrapped in two warm orange colored foam sheets, instead of the usual hardcover.
The poems are in both original Chinese and the English translation.
The fresh touch of the design and poems have lightened the heart of many, enticing more to the pleasure of reading poetry, especially among the young "white collars", critics said.
It sold 20,000 copies in half a year, and made the list of the 6th Lu Xun Literature Awards for 2014.
The publisher even arranged a seminar to discuss why the book made reading poems fashionable again.
Critics like Lian Hongying quickly note that Fu's poems are almost asexual, "without the commonly seen female sentiments and love affair related groans".
Fu's book editor Luo Jingwen agrees and points out that her poems are about an attitude toward a lifestyle with modernity, "showing her sharp observation of the painful conflicts in the modern era, and also her unique ability to neutralize those pains".
Her peer writer Huang Jiangyu agrees. "Fu has established a new path of poetry writing. The Fu phenomenon sends out information of a confident, stylish, contemporary female image which is fatally attractive to today's readers."
That indeed, to veteran literary critic Wu Sijing, is who Fu truly is in real life.
Wu calls her poems "the autobiography of the mind".
"She is surprisingly frank about her being a businesswoman in her writing, and reveals her wisdom and contemplation in business."
Fu writes in the poetry collection's preface: "Finishing a poem and then moving on to business, I could play the game calmly while in the status of having a fever."
Fu graduated from university in the 1990s and found a secure job. Soon she left the "safe work" and started a business with art-loving friends to design interior decorations. Her company's work can be seen in top-level public places like the Oriental Plaza in Beijing.
She sits elegantly and talks softly during the interview in a hotel lobby: "The material gains enabled my artistic creations. And I believe I've seen bigger views and sampled more condensed experiences during the hard-working process of reaching material success so I can see further than life's trivia.
"I'm just being candid about what I learnt and who I am."
Taking poetry as "the unavoidable tax on the happy life", Fu adds her curiosity prompted many "adventures" in her life and she recorded them with poems.
"I really did shave my head as I wrote," she said.
Fu developed a strong sense of economy from the business world, adding her poems are seeking shortcuts to modern life.
"People tend to overwork, or they do futile work nowadays, because they're obsessed with money and anxious of social status. I am not."
Her poems' translator, Hua Ting, an MA graduate from University College of London, sees a calm and rational character, unbound to the outer world in Fu's works.
"She's also occasionally soft and weak, which makes her and her poems really charming," Hua said.
It's rare that a Chinese poet publishes her work simultaneously in both Chinese and English.
"I hope to tell the readers outside what Chinese women look like and what they think of the time they're in," Fu said. Her book is also available in French bookstores, a country that knows a thing or two about great writing.
Her poems pay tribute to big-name writers, Chinese and foreign. It's been an influence on her extensive reading since she was very young.
Born in the 1970s into a prestigious family known for traditional Chinese medicine, Fu began writing at 7.
Her childhood memories are filled with the many books that crammed her home study. She can recite ancient Chinese classics, but she's always eager to read Western literature and philosophy.
"Every day I will spend two hours, just reading, otherwise I'll feel disturbed and uncomfortable."
The fusion of East and West does not only appear in her poems but also in her installation works.
In Origin of Species she combines traditional embroidery with oil painting, and in another one she made an "ink and wash" styled painting with pieces of pale yellow feathers.
In 2013 she started a workshop in Beijing, promoting the fresh idea of installation arts in home furnishing. Earlier in 2015, her second poetry collection was published in Taiwan.
Fu is currently writing a novel.
"The readers, I would still love them to be the ones who always sit at the front row of life. Just like myself."