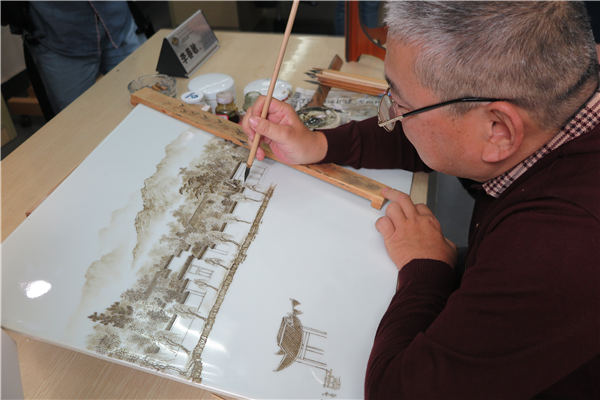 Li Chunmin demonstrates how to paint on a porcelain board at the museum.Shi Xiaofeng / China Daily
While the exhibits at Nanchang Porcelain Painting Museum in suburban Nanchang in East China's Jiangxi province may impress each visitor with their elegance, they are also likely to evoke childhood memories among many visitors, especially the elderly.
The museum is dedicated to porcelain painting - a rare craft that was popular in Nanchang and its surrounding regions at one time.
The museum, with a floor space of nearly 10,000 square meters, was built with government funding and opened in 2013, aimed at integrating the exhibition, creation, research and collection of painted porcelain art, which was named by the Ministry of Culture as a national intangible cultural heritage in 2008.
Porcelain painting originated more than a century ago in the Nanchang region, where in the early days, rich people often invited painters to paint realistic portraits of their parents on square porcelain pieces so that they could hang them on the walls of their homes as a way of remembering the deceased.
Gradually, porcelain painting developed with a complete set of materials, techniques and representation forms for itself.
"Porcelain painting was still very popular in the city when I was small. There were venders and folk painters all over the streets," recalls Li Chunmin, 57. Li, who is now a well-known porcelain-painting artist, works at the museum. He started to learn the art when he was age 16.
"I was interested in painting since I was a child. I had disability in my legs, so my mother advised me to learn porcelain painting when she saw the folk painters do their work while sitting," he says.
While creating porcelain paintings, mineral pigments mixed with oil are applied on flat porcelain pieces. Each painting is composed of three or even more layers. Each time a new layer is applied, the whole piece is placed inside the furnace.
According to Li, a regular-sized portrait usually takes him more than 10 days to finish.