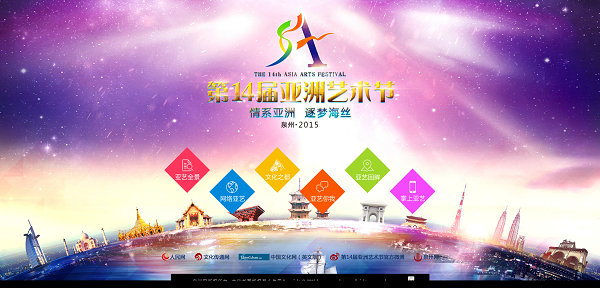 The homepage of the 14th Asia Arts Festival's offcial website.[Photo/2015art.cn]
Designed to attract more people's attention and allow greater participation, the 14th Asia Arts Festival went online in Quanzhou, Fujian province on July 12th. An official website ( http://www.2015art.cn/) was also initiated.
The online festival features six projects: the contest to design the 14th Asia Arts Festival logo, mascot and anthem; the Quanzhou-798 International Children's Art Festival; the global contest of Just Share It - Explore the Beauty of Asian Arts and Culture; an international poster creation competition; an online expo on Quanzhou art and special coverage of the online event on people.com.cn.
Sponsored by the Ministry of Culture, the Asia Arts Festival is the first hosted by China. Since its launch in Beijing in 1998, previous events have been held in different cities around the country.
The festival will run between November 8 and 15, with the Ministry of Culture and Fujian Provincial People's Government as sponsors and the Fujian Provincial Department of Culture and Quanzhou municipal government as organizers.