Fast fashion resistor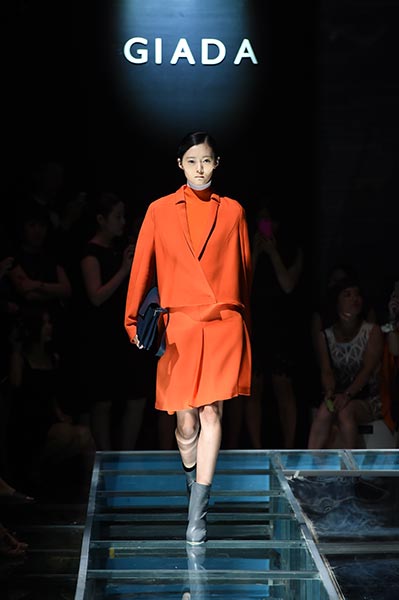 Models walk the runway at Giada's 2015 autumn/winter collection themed as the "Deconstruction of Modern Art".[Photo provided to China Daily]
Chinese women have been quick to appreciate the one-of-a-kind elegance of Italian fashion house Giada, Sun Yuanqing reports.
There are some luxury brands that like to call China their second home. For Italian luxury brand Giada, it couldn't be truer.
Among its 57 stores, 56 are in China. After opening its first Italian store in Milan's Via Montenapoleone in January, it opened another flagship store in Beijing recently.
Themed as the "Deconstruction of Modern Art", the 2015 autumn/winter collection presented speaks of Giada's iconic simplicity, which combines modern cutting with innovative Italian textiles. Classic cashmere coats employ Kimono sleeves that add interesting volume. Geometric prints inspired by British artist Katia Borges enliven the staple black, white and grey.
The brand has enjoyed robust growth in China since it first opened here in 2005. Chinese customers have immediately appreciated Giada's philosophy of "timeless fashion" and its focus on quality, says Rosanna Daolio, founder of Giada.
Daolio designed for Max Mara and ran a design studio before founding Giada in Milan in 2001. The label is now mainly owned by luxury brand management company Redstone Haute Couture, which has introduced brands like Salvatore Ferragamo, Yves Saint Laurent, and Valentino to China.
"Chinese women have proven to be very sensitive in 'understanding' Italian elegance. Giada is a luxury business achieving success in China and returning to Italy with high recognition," she says.
At the same time, it is eyeing a wider market with plans to open in the United States, Britain, France and Japan. A New York store is due to open by the end of the year.
In China, it is planning to open six new stores and upgrade the images of 20 existing shops, Daolio says.
The 2015 autumn/winter collection marks is the first by Gabriele Colangelo, one of the most prominent emerging Italian designers, for Giada. Colangelo joined the brand in February, and Daolio says his appointment is set to bring something new to the brand.
"His point of view can give Giada a new impulse. His designs are modern, elegant, intelligent and attentive to new international trends," she says.