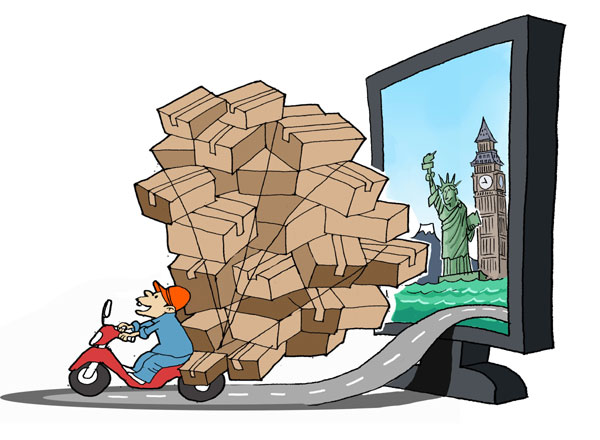 It's easier than ever to buy overseas items, but that's not the real reason behind the booming ranks of China's haitao consumers.
Liu Xin, 32, a Beijing local, has been buying products for her child from overseas websites since 2011. She has bought everything from milk powder, a stroller, and a car baby seat to feeding bottles and body lotions, all of which have been delivered to her doorstep through international shipping.
"Every mom around me knows how to shop from overseas websites for their babies. It is now a must-have life skill," she says.
Liu is one of millions of Chinese who buy products from overseas online platforms and have them delivered to their Chinese addresses. The practice of buying overseas products is so popular it has earned the label haitao, which literally means "ocean search" in Chinese.
In 2013, China had around 18 million haitao consumers who made transactions worth some 80 billion yuan ($13.08 billion) from foreign websites in 2013, up from 10 billion yuan in 2010, according to figures from Analysys International, a Beijing-based Internet consultancy. And the value of haitao transactions is expected to exceed 120 billion yuan this year.
This year, Chinese consumers have also participated in major Western shopping sprees, including Black Friday and Christmas sales, in large numbers.
The traditional method would be for Chinese consumers to place their orders on foreign websites, pay in the store's local currency and have the products shipped to a temporary address within the country where the store is based. So usually before shopping, Chinese consumers would register with an express delivery company to be allocated with a foreign address. Then the express company would take responsibility for clearing the goods through the Chinese customs and hand them over to a Chinese delivery company.