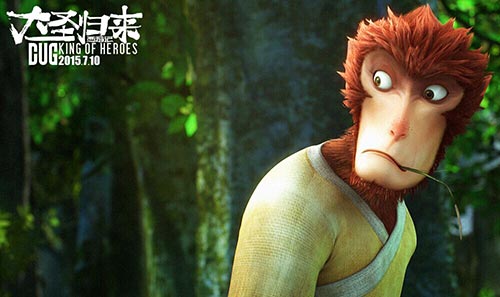 Ticket sales for Monkey King: Hero is Back has exceeded 100 million yuan ($16.11 million) in just three days. [Photo from Internet]
China's box office totaled 20.4 billion yuan ($3.3 billion) in the first half of 2015, according to State Administration of Press, Publication, Radio, Film and Television (SARFT) on Tuesday.
Domestic films raked in very respectable 9.5 billion yuan, compared to foreign movies which grossed a total of 10.8 billion yuan.
The Man from Macao II featuring Chow Yun Fat took 974 million yuan, ranking first in terms of domestic movies, followed by Dragon Blade starring Jackie Chan at 744 million yuan.
Fast and Furious 7 topped China's box office at 2.4 billion yuan, followed by Avengers: Age of Ultron and Jurassic World, grossing 1.5 billion yuan and 1.3 billion yuan respectively.
A total of six provinces and municipalities including Beijing and Shanghai, have witnessed their box office exceeding 1 billion yuan in the first six months.
There are more than 5,660 cinemas and some 28,000 screens in China, said SARFT.
Related:
'Monkey King: Hero is back' ignites passion of audience