Zhang Yimou sues ex-partner for $2.5m share of distribution money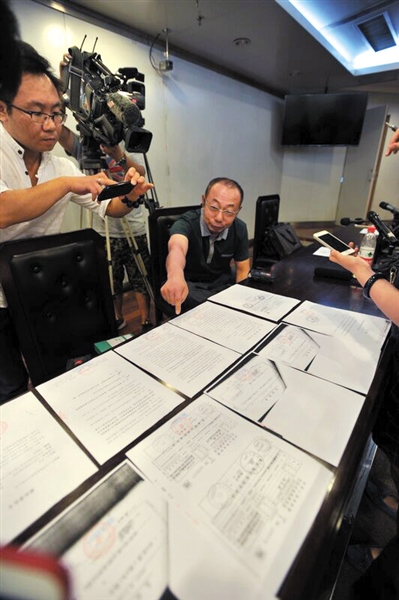 Zhang Yimou's laywer (right) presents evidence for the lawsuit. [Photo/Agencies]
Award-winning Chinese director Zhang Yimou has sued a production company, which he worked with for more than a decade, for 15 million yuan ($2.5 million) that he says he is owed as his share of the distribution revenue for one of his films.
The director's lawyers argued Tuesday at Beijing Chaoyang District Court that Zhang hadn't received his share of the money for his 2009 film A Woman, a Gun and a Noodle Shop. The film, often regarded as one of Zhang's worst productions, centers on a noodle shop owner scheming to kill his cheating wife and her lover.
The defendant, Beijing New Picture Film Co. argued that payments of 12,536,400 yuan ($2.02 million) from the distribution of A Woman were made to Zhang's wife in thirteen installments and asked the court to overrule Zhang's claims.
Zhang's lawyers confirmed that the payments were received, but stated the sum is Zhang's salary for directing five films including Hero and House of Flying Daggers, and not the distribution from A Woman.
Zhang and Beijing New Picture have worked together on many of Zhang's renowned works, including House of Flying Daggers and Hero.
Zhang did not attend the hearing, and the court did not give a specific date to when the judgment will be released.
The director is working on his first English-language film The Great Wall, starring Matt Damon and Chinese actor Andy Lau. The Sino-US co-production fantasy is due to be released late next year.
Related:
Movie 'The Great Wall' promoted in Beijing