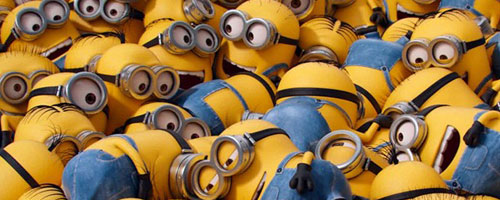 Animated film-"Minions" has dominated North American box office over the weekend, racking up over $115 million. [Photo/Mtime.com]
Universal Pictures' "Minions" is believed to have racked up over $115 million at the North American box office over the weekend.
This makes it the second biggest opening for an animated film in history, following "Shrek the Third" for the latter's 2007's start with $122 million in ticket revenue.
The spinoff from "Despicable Me" scored over $46 million in Friday's box office, the best single day ever for a cartoon feature.
And it received a solid "A" rating from first-night moviegoers on CinemaScore.
In second place, Universal's "Jurassic World" continues to be strong, adding another $18 million on its fifth weekend in theaters. It has now sold $590 million in tickets in North America.
This leaves it just less than $10 million away from becoming the fourth film ever to reach the $600 million box office milestone in the US and Canada.
"Inside Out" is ranked third, with an estimated $17 million.
The 3D computer animated blockbuster has gathered $284 million of tickets sales in North America in 24 days.
Related:
'Monk Comes Down the Mountain' rules China's box office