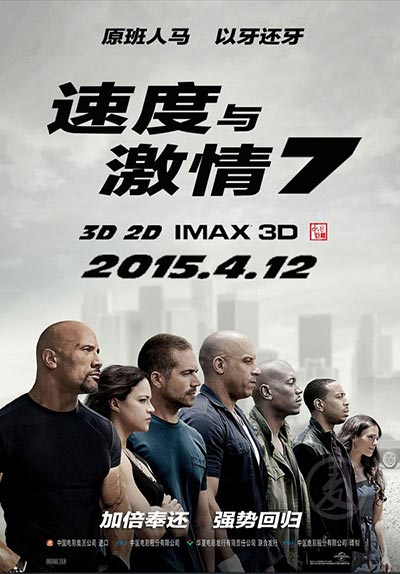 Fast & Furious 7 was hugely successful in China. [Photo/Agencies]
New stats show box office revenues in China have surpassed 20 billion yuan ($3.2 billion) so far this year. This is nearly 50 percent growth compared with the first half of last year.
156 different films have been screened in Chinese theatres so far this year.
Imported films have generated 53.5 percent of the gross revenues, seven percent higher than that for domestic films.
Hollywood blockbusters, including "Fast and Furious 7", "Avengers 2: Age of Ultron" and "Jurassic World" have been the top grossing movies in China so far this year.
"Fast and Furious 7" has taken in 2.4 billion yuan ($387 million), becoming the highest-grossing film of all time in China.
Chinese film "The Man from Macao II" is the largest domestic grossing film this year, bringing in 970 million yuan ($156 million).
Related:
Jackie Chan is world's second highest paid actor