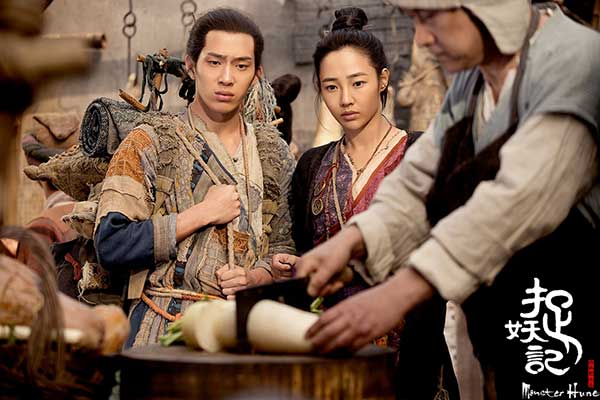 Jing Boran (left) takes over the lead role previously featuring Kai Ko, who was detained on drug-use charges. The movie Monster Hunt, which was initially scheduled to be released in February and is now slated for July 16, deleted scenes of Ko.[Photo provided to China Daily]
The ban on movies featuring actors convicted of crimes has hurt several upcoming releases filmed before the arrests. Xu Fan reports.
No insiders dared nine months ago to guess if the films tainted by their actors' drug and sex scandals would still play at theaters this summer.
Now, we know many will. But not in their original forms.
Versions of several flicks with the offending actors edited out will hit theaters this month and in August.
The State Administration of Press, Radio, Film and TV issued a ban last fall on celebrities who use drugs or hire sex workers from appearing in films, on TV or in comparable media.
It rocked Chinese showbiz and seemed a career-ender for several fallen stars.
Some of the "tainted" upcoming films shot new scenes with new actors to replace the disgraced ones, while others simply deleted scenes showing them.
The upcoming live-action/animated movie Monster Hunt, which was initially scheduled to be released in February and is now slated for July 16, deleted all scenes showing Taiwan actor Kai Ko, who was arrested in Beijing for drug use in August and later released after a 14-day detention.
The 24-year-old idol, who shot to fame with the 2011 hit rom-com You Are the Apple of My Eye, was replaced by mainland actor Jing Boran. Ko, who has recently been attempting to stage a career comeback, has reportedly lost 19 advertisement contracts and watched his income shrivel.
The movie's director, Raman Hui, who's also co-director of DreamWorks' Shrek The Third, tells China Daily he was stunned when he heard the news.
"Nearly 80 percent of the special effects were completed. It was like making the same product the second time," he says, sighing, after the first screening for media in Shanghai last week.
Bill Kong, the movie's Hong Kong-based producer, reveals replacing Ko initially cost the big-budget title an extra 70 million yuan ($11 million)-a sum that snowballed 350 million yuan and another five months. This forced him to "bet every cent".
Another affected film is veteran director Chen Kaige's first martial arts flick, Monk Comes Down the Mountain. The 250 million yuan movie originally starred Jackie Chan's son Jaycee Chan. The younger Chan was arrested with Ko, a close friend, in his apartment. Chan was charged with drug use and providing drugs to others on Aug 18 last year. He was released on Feb 13.