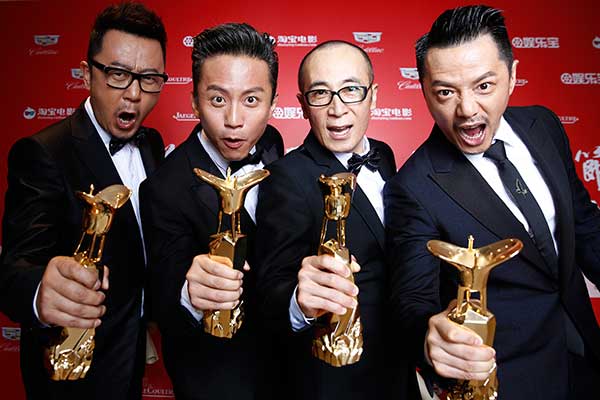 Cast members of crime thriller The Dead End receive the Golden Goblet Awards for best actor and director at the recent Shanghai film festival. The film also underwent "adjustments" since one of its actors, Gao Hu, was arrested for marijuana use last year.[Photo provided to China Daily]
Chen, who became internationally acclaimed with his 1993 hit Farewell My Concubine, has continued to dodge questions as to whether Chan's scenes will be deleted.
"Take a guess," he recently told a journalist who asked.
The flick took 213 days to shoot and will be released on the mainland on July 3.
Ko's fall has also hit Tiny Times 4, the latest installment of the franchise inspired by best-selling novelist Guo Jingming' namesake novel.
The recently released poster for the film, which will hit mainland theaters on July 9, features all the cast members-and Ko is conspicuously absent. A side shot of his face, however, appears for two seconds during the trailer.
Guo, who's also the director, says he has created several versions attempting to include, to various degrees, some scenes featuring Ko for authorities to review but has yet to learn of the final verdict.
It's perhaps ironic that a crime thriller-The Dead End, starring mainland actor Gao Hu-is also suffering from its star's criminal behavior.
The film will undergo "adjustments" since Gao was arrested for marijuana use last year on Aug 4 and released on Aug 22. The movie's general release on the mainland is scheduled for Aug 27.
The flick has become a sensation since wining the Golden Goblet Awards for best actor and director at the recent Shanghai International Film Festival.
Insiders who watched the movie at the festival say the scenes featuring Gao account for around 10 minutes of the 141-minute title, and the actor's face is a bit "vague" and hard to recognize.
The worst hit seems to be Zhang Meng's The Uncle Victory.
Its screening at last year's Shanghai festival was canceled-although it still won the Jury Grand Prix-and isn't slated to be shown in theaters.
The film-ironically about a former prisoner-was rocked when Huang Haibo, who plays the protagonist, was arrested for hiring sex workers on May 5 and released six months later.
Huang has reportedly now returned to China after he moved to the United States with his girlfriend and purchased a $1.78 million apartment in Arcadia, California.
But his days in the Chinese mainland's showbiz seem to be over.
"(The convicted celebrities) have been punished by the law. But it's not fair to sanction the movies. The other crew members are clean," Zhang says.
The policy is a point of debate in the industry.
Veteran director You Xiaogang supports a 10-year ban on a convicted actor. Others say it's discrimination. "They at least deserve a second chance," director Zheng Xiaolong tells media.