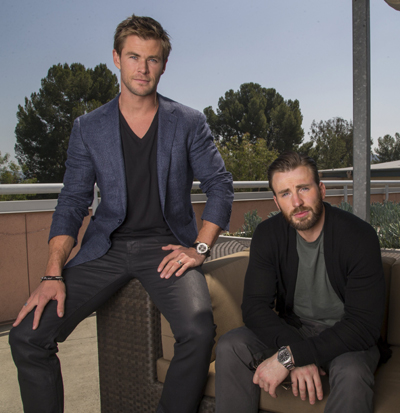 Cast members Chris Hemsworth (L) and Chris Evans pose for a portrait while promoting "Avengers: Age of Ultron" in Burbank, California April 11, 2015.[Photo/Agencies]
Disney/Marvel kicked off the summer movie season with "Avengers: Age of Ultron" this weekend, which was on track for $187.7 million in opening weekend ticket sales.
Playing at 4,276 locations, "Avengers: Age of Ultron" was the second biggest opening weekend in Hollywood history, sandwiched in between two other Disney/Marvel releases, its predecessor "Marvels ' The Avengers" at $207.4 million and "Iron Man 3" at $174.1 million, according to studio estimates from ticket-sales firm Rentrak.
"Avengers: Age of Ultron", starring Robert Downey Jr., Scarlett Johansson, Chris Evans and Jeremy Renner, earned 90 percent positive reviews from audience and 75 percent approval rating from critics on survey site RottenTomatoes.com. First-night moviegoers gave the film an "A" rating on CinemaScore.
The audience breakdown for the film skewed towards male moviegoers (59 percent) and towards moviegoers over the age of 25 (59 percent). Family audiences represented 22 percent of the film' s overall audience. "Avengers: Age of Ultron" grossed an estimated 18 million from IMAX locations, which represented 9.6 percent of the film's overall gross.
In an unusual move, "Avengers: Age of Ultron" opened overseas two weeks ahead of North America, and has grossed $627 million in 12 days of global release, Rentrak reported.
The Blake Lively fantasy romance, "The Age of Adaline", ranked second with $6.3 million in projected sales, declining a significant 53 percent from last weekend's debut. The film has grossed $23.4 million in ten days.
After leading the box office for the past continuous four weekends, "Furious 7" finished in third with an additional $6.1 million, plummeting 66 percent compared to the ticket sales in last weekend. The seventh installment of Universal's action franchise grossed $330.5 million in North America and $1.4 billion worldwide over five weeks of exhibition.
Rounding out the 10 most-popular films in the United States and Canada from Friday through Sunday night were "Paul Blart: Mall Cop 2" ($5.6 million), "Home" ($3.3 million), "Cinderella" ($2.4 million), "Ex Machina" ($2.2 million), "Unfriended" ($2 million), " The Longest Ride" ($1.7 million) and "Woman In Gold" ($1.7 million).
Related:
The avengers blaze... ...into Beijing