Latin spirit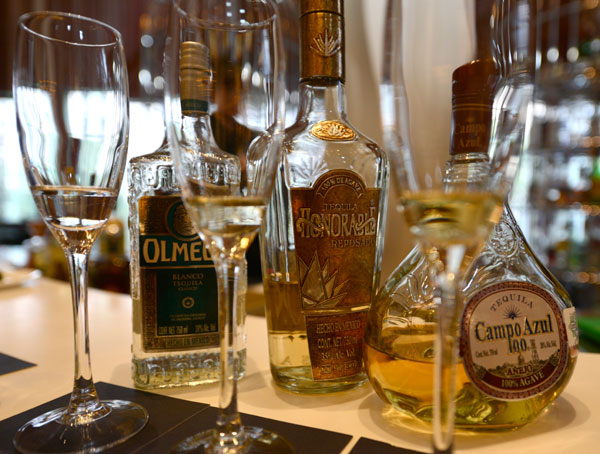 Premium tequilas offer an intriguing array of aromas and flavors, from citrus to butterscotch. [Photo by Bruno Maestrini/China Daily]
Thanks to recent agreements with Mexico, quality tequilas are now finding their way to China's best bars and supermarkets. Mike Peters chases the blue agave's magic for Cinco de Mayo.
My personal bucket list, the tally of things I'm determined to do before I die, features a surprising amount of glassware and train travel. There is that meandering journey through the wine country of France (many tasting stops, please). And then there's the Tequila Train.
I hadn't heard about it when I last visited Mexico, or I suspect I'd have been aboard, no doubt with a goofy souvenir sombrero, a similarly goofy smile and a big-mouthed glass easy to refill with the next margarita. The Tequila Train runs from the picturesque mountain city of Guadalajara to the desert town of Tequila in Jalisco state, which is ground zero for the production of distilled spirits made from the blue agave plant. While the Tequila Train may sound like a college fraternity party on wheels, today's passengers are likely to be hotel managers, chefs and sommeliers, from top eateries from France to Singapore, eager to learn more about a liquor that's enjoying a surge in this era of "gastro-globalization".
As the Mexican holiday Cinco de Mayo (May 5) approached this year, I found myself at a tequila-tasting event hosted by Alba Xitatlic Aviles Hernandez, the Regulatory Council of Tequila's chatty representative for Asia. Aviles is based in Shanghai, but was in Beijing to introduce capital drinkers to the finer points of her country's prized tipple.
"What do you taste?" she asks as she holds up a generous shot of amber-hued nectar, poured into a champagne glass to highlight the color and aroma.