East meets West in exhibition showing Chinese influence on fashion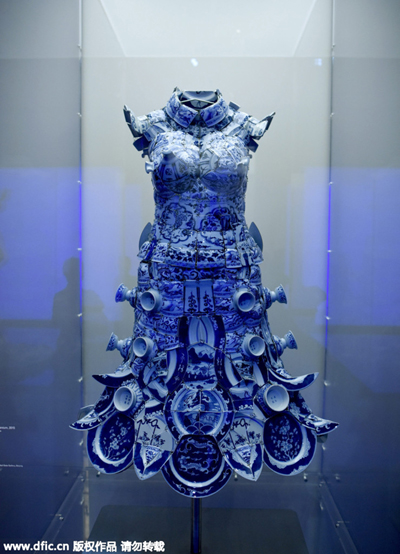 A view of a dress made from porcelain shards on display during a preview of the Costume Institute's spring 2015 exhibition 'China: Through the Looking Glass' at the Metropolitan Museum of Art in New York, New York, USA, May 4, 2015. The exhibit, which runs from May 7 to Aug 16, focuses on the influence of Chinese aesthetics on western fashion and looks back at some of the history of Chinese design. [Photo/IC]
East meets West in a new exhibition at the Metropolitan Museum of Art that juxtaposes the influence of Chinese art, imagery and culture, from Imperial China to the present day, on Western fashion and design.
With 150 dresses, gowns, costumes and accessories from 40 designers on display, "China Through the Looking Glass," which runs from May 7 to Aug. 16, is one of the biggest exhibitions undertaken by the museum.
More than two years in the making, the show encompasses 30,000 square feet of galleries over two floors. It takes visitors on a journey showing how Western designers found inspiration in all things Chinese, from the elaborate embroidered costumes of Imperial China to Shanghai in the 1920s, up to the military garb of the "cultural revolution" (1967-76).
"It is a monumental, immersive exploration of the influences of Chinese art and film on western fashion's greatest design talents," Thomas P. Campbell, the director and CEO of the Metropolitan, said during a preview of the show.