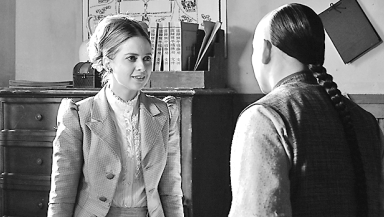 Isabella Charlton plays in Longhao Ji Che, a 30-episode series based on a true story in the Qing Dynasty.[Photo provided to China Daily]
With her blonde hair and fair complexion, Isabella Charlton may have the Hollywood look, but those blue eyes are set on China.
"I think China is the ideal launching point to get into film and TV, there are opportunities here you might not get elsewhere," Charlton says. "Beijing is really where all the exciting action is in the film industry right now, and I can only see it getting stronger."
Charlton, originally from the United Kingdom, is a qualified barrister, but after a few years in the courtroom she decided her real ambition was to be in front of a camera. And the booming Chinese movie industry seemed an obvious choice for the fluent Mandarin-speaker.
The 28-year-old recently finished filming Longhao Ji Che, or Dragon Train, a TV series based on the true story of a Scottish entrepreneur who traveled to a Qing Dynasty (1644-1911) court in the hope of bringing a railway project to China. She plays the character Miaoli in the 30-episode series that is set to air in the fall.
"My character is the niece of this British guy who comes over to China and brings over the idea of building a train ... He comes here with all these great ideas and raises all this money but then it never really gets made," Charlton says.
"But the reason it doesn't get made is because it's during the Qing Dynasty and the empress dowager has a court that's very divided and she has some very conservative factions who really believe that the train is evil and they try to sabotage it," she says.
"There are some really funny scenes where they say that a rabbit told them it was evil."
The show's director is Ying Da, who rose to prominence in the 1990s with the show Wo Ai Wo Jia, or I Love My Family. When Charlton was first introduced to Ying he spoke to her in Mandarin before suddenly switching to flawless English. "I was like, 'what!'" Charlton demonstrates her shock, mouth dropping open with surprise. She laughs.