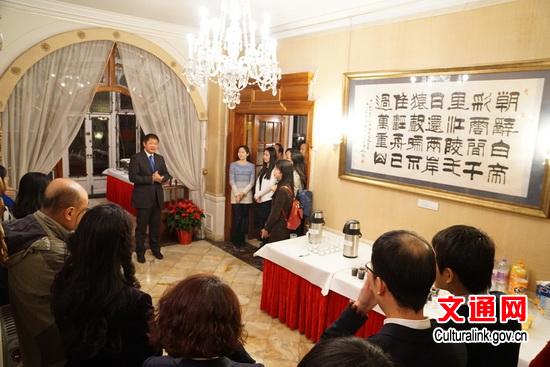 A scene from the press conference [Photo/Culturalink.gov.cn]
The Cultural Section of the Chinese Embassy in Britain held an official reception and a press conference on Jan 20 to mark 'Happy Chinese New Year', a warm up for coming activities in the Lunar New Year.
Xiang Xiaowei, envoy and cultural attaché at the Chinese embassy in Britain, delivered a keynote speech during the event. From his perspective, with the advance of China's economic and social performance, "Chinese Style" is gaining increasing attention among the British people. 'Happy Chinese New Year' has already become an established brand for foreigners to better understand Chinese traditional culture.
The Cultural Section of the Chinese Embassy in Britain is striving to launch a series of programs to ensure a superior 'Happy Chinese New Year' in 2015.
Red Poppy Ladies' Percussion, a well-known female percussion band in China, will perform at Trafalgar Square in London and the British Film Institute (BFI) will hold some lectures on Chinese films. Also, the British Museum will launch various cultural activities for children of different ages by setting up a "Spring Festival Week" and "Legend of the Sun", an opera, will be staged for three performances at the Sadler's Wells Theatre.
'Happy Chinese New Year' is a worldwide celebration hosted by the Ministry of Culture of the PRC and other Chinese authorities. Since 2009, a number of celebrations have been held overseas under the theme, engaging both overseas Chinese and citizens from all over the world.