Mad about saffron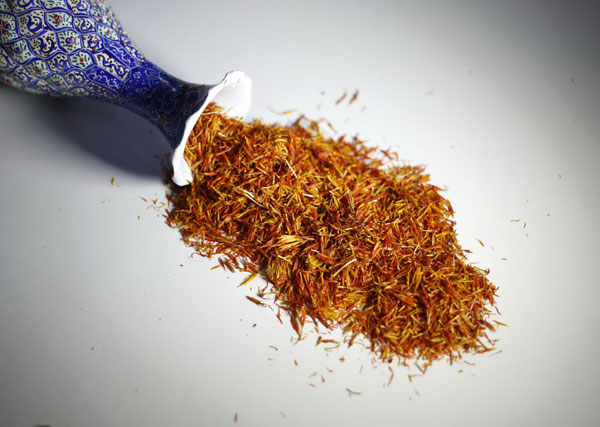 Threads of saffron still command a high price in spice markets globally.[Photo by Wang Zhuangfei/China Daily]
Labeled 'mellow yellow' in song, this precious herb boasts the color of the sun and has rich traditions in cuisine, art and medicine. Mike Peters reports.
Fans of exotically flavored saffron may call it a spice to die for, but centuries ago on the ancient Silk Road, such a statement was literally true. Traders risked great hardships to attain the fragrant spice worth more than its weight in gold, and highwaymen of the time had few scruples about killing a few men to get a few saddlebags of the floral treasure. A single Crocus sativus plant bears no more than four flowers, each with three vivid crimson stigmas from which saffron is derived.
"Clearly there is something magical about the Crocus sativus flower," writes medical blogger Sayer Ji on Green Med Info. "If its striking beauty does not immediately cast a spell on its beholder, often it simply takes experiencing the spice to fall into full enchantment with it. While saffron is exceptionally expensive, because it takes approximately 150 flowers to yield just 1,000 mg (0.035 oz) of dry saffron threads, and costs approximately $1,000 a pound, it does not take much to have an effect. Its uniqueness is also illustrated by the fact that it shuns mechanization, requiring of its would-be possessors that it be painstakingly harvested by hand, as no doubt has been done for tens of thousands, if not hundreds of thousands of years.
Today the most expensive grades still come from Iran and surrounding areas that were once part of Persia, such as Afghanistan, and demand for the real thing has kept it moving along centuries-old routes, usually without benefit of camels.