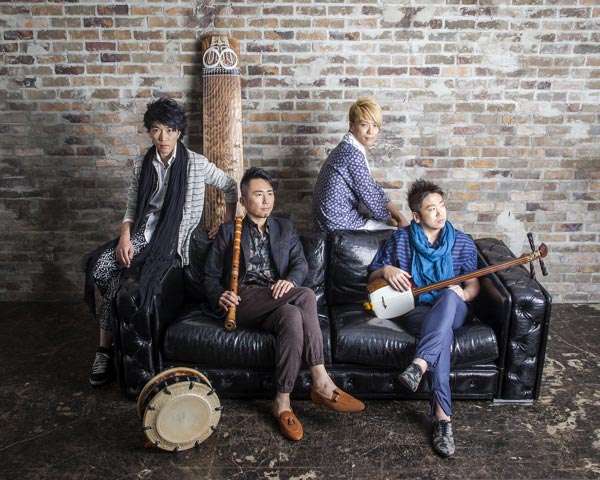 Wasabi is a pure Japanese traditional instrumental band. Photo provided to China Daily
The Japanese group Wasabi will perform a concert in Beijing on Jan 5, then perform in Shanghai on Jan 8. 
The quartet band is composed of shamisen player Ryoichiro Yoshida, Hiromu Motonaga on shakuhachi, Shin Ichikawa on so (17-stringed koto harp) and Naosaburo Bihou on taiko (Japanese drum).
The name Wasabi combines the two elements "wa", meaning Japanese, and "sabi", referring to the catchy part of a song.
The group's debut album, also entitled Wasabi, was released in 2012, followed by a second album, Wasabi 2, in October this year.
"We decided on the name Wasabi because we thought people overseas would be familiar with the word through its association with sushi," Yoshida told the Japan Times. 
While all the instruments are considered traditional, Wasabi has been persistent in reaching out to listeners overseas beyond the large, older Japanese demographic.
If you go
7:30 pm, Jan 5. Century Center, 40 Liangmaqiao Road, Chaoyang district, Beijing. 
8 pm, Jan 8. Qianshuiwan Culture and Arts Center, Q.Hall 1F, 179 Yichang Lu, Suzhou Creek near Jiangning Lu, Shanghai.
Related:
Psy sets another YouTube record
Wang Feng concludes his 'Storming' concert tour 2014 in Xiamen