Show of splendor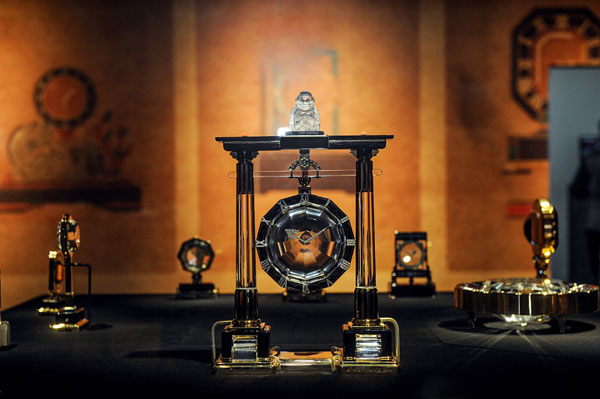 The exhibition at the Sichuan Museum showcases Cartier's most precious heritage piece including the large portique mystery clock.[Photo provided to China Daily]
A range of Cartier is on display at Sichuan Museum, showcasing some of the world's most famous jewels. Sun Yuanqing reports.
Famous pieces of jewelry are often associated with their legendary owners: Hollywood legend Elizabeth Taylor's diamonds or the late British duchess Wallis Simpson's brooch.
All this historic jewelry is now on display at the Making of Art exhibition in Sichuan Museum in Chengdu, Sichuan province.
Organized by Cartier Collection and Sichuan Museum, the exhibition showcases 339 of Cartier's most precious heritage pieces alongside 87 pieces of Chinese art from the Chinese museum. The exhibition also marks the opening of the 2015 Croisements Festival, an annual festival promoting Sino-French cultural exchanges.
The exhibition revisits all the classic styles in Cartier's history since the 1840s, including neoclassical, garland style, art deco style and yellow gold.
Throughout history, Cartier's works have been influenced by art from around the world, including the aesthetics of China, India and Japan. One of the highlights of the exhibition is the recently acquired imperial jadeite bead necklace that once belonged to US socialite and heiress Barbara Hutton.
The necklace is made up of 27 jadeite beads cut from one block. They are believed to have come from 18th-century China. The green jade is adorned with a ruby clasp made by Cartier in 1934. The necklace has a bold combination of red and green, traditional Chinese colors.