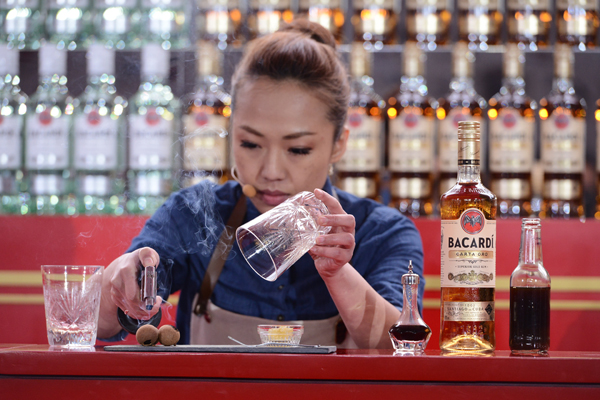 Chen Shibei from Speaklow Bar in Shanghai. Photo provided to China Daily
The China final of the Bacardi Legacy Global Cocktail Competition was held recently at Imperial Ancestral Temple of the Forbidden City in Beijing. The iconic landmark witnessed the first female winner of the competition, Chen Shibei from Speaklow Bar in Shanghai (pictured above).
At night, a 3-D mapping projection transformed the temple into a visual work of holographic projections, revealing Bacardi's brand stories and its new bottle design. Twelve young and talented Chinese bartenders were also introduced.
"It's so amazing that I won the championship at the great Forbidden City. The competition is very exciting, and each bartender is great. I'm very proud of myself, for being a female bartender," says Chen, 26. She will bring her cocktail Gold Fashion to Sydney, Australia, in May for the global finals, competing with her peers from all over the world.
Gold Fashion was an inspiration from her journey when she moved from her hometown in Taiwan to Shanghai last year. The cocktail is about her impression of Shanghai, with a combination of old and new, incorporating ingredients such as longan fruit.