Moutai captures China's true spirit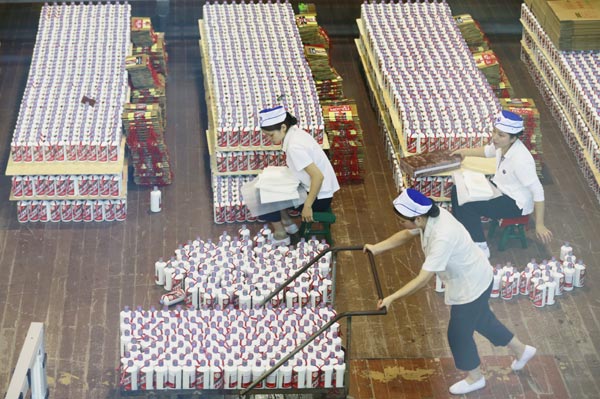 Workers in the town of Moutai, Guizhou province, inspect consignments of the liquor in October. Feng Yongbin / China Daily
China in a bottle-that's Moutai.
Leaders and delegates to the APEC meeting will get to savor the popular baijiu, a white liquor, at a welcoming banquet to be hosted by President Xi Jinping and his wife Peng Liyuan on Sunday.
Moutai's story is very much intertwined with that of China. Recognition of its quality dates back as early as 135 BC, when Emperor Wu pronounced the liquor from Guizhou to be excellent.
Its history can be traced even earlier, to the Da Pu era when the aboriginal Pu tribe lived in the deep valley of the Chishui River, which flows from the mountains in Yunnan province.
The words "mou tai" derive from the couch grass terraces where the Pu people performed religious rituals that involved the white spirit.
During the late Ming (1368 to 1644) and early Qing (1644 to 1911) dynasties, Moutai baijiu was again much celebrated. In 1915, it also won a gold medal at the Panama Pacific International Exposition in San Francisco, which helped restore much-needed national pride to a country in decline.
Legend has it that a Chinese representative at the expo intentionally let a clay jar of the liquor fall to the ground from a height, thus releasing its distinctive aroma. Intrigued by the fragrance that filled the air, judges at the expo went to investigate and found the alcohol to be the best of all the submissions.