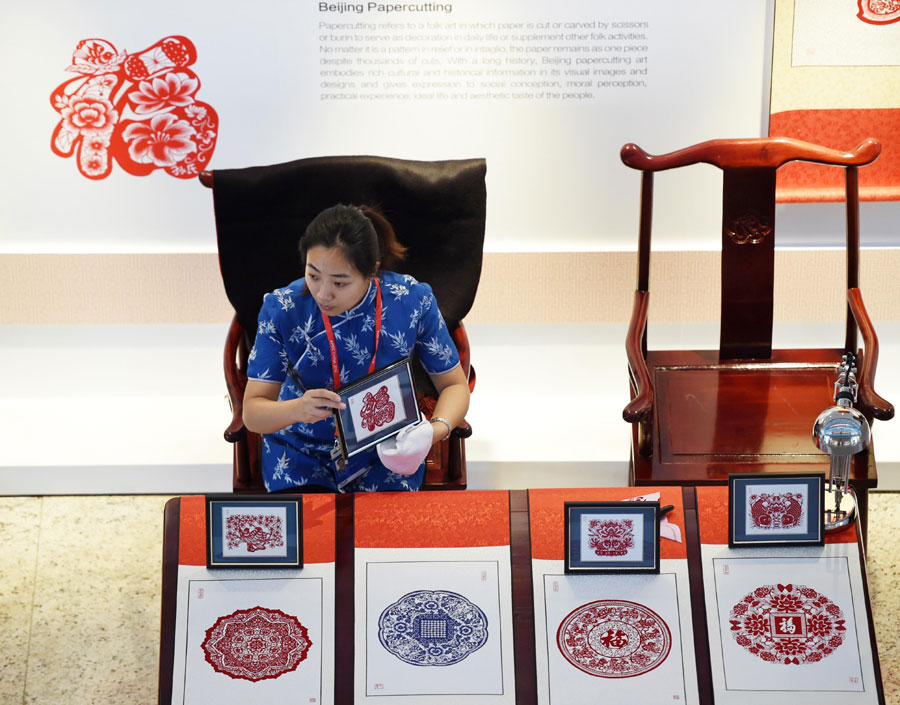 A worker displays paper-cuts at the China National Convention Center (CNCC), one of the venues of the 2014 Asia-Pacific Economic Cooperation (APEC) Economic Leaders' Week, in Beijing, capital of China, Nov 4, 2014. [Photo/Xinhua]
With the upcoming 2014 APEC Economic Leader's Week, one of the major press centers at the China National Convention Center (CNCC) has been decorated with elements of Chinese style and officially opened to the public on Tuesday.
A photo show featuring charming Beijing and an exhibition of Chinese intangible culture heritage, such as diabolo, shadow puppets, paper-cuts and Tu'er Ye color sculpture are on display at the convention venue, which caught the eye of many journalists.
With an appointment, journalists also can take a tour of Beijing's beautiful countryside from CNCC.
"The exhibition and experience of Chinese intangible culture heritage is open to journalists from around the world," a staff member named Shan Dan told People's Daily.
Wang Lei, the inheritor of Sun-style paper-cuts, who displayed his skills during the 2008 Olympic Games, also came to the convention venue.
"At that time, everyone liked it," Wang said. "This time I will display it to journalists and I hope they can learn more about Chinese culture after work."
Beijing travel guides both in Chinese and English editions are also placed inside the press center for journalists to use.