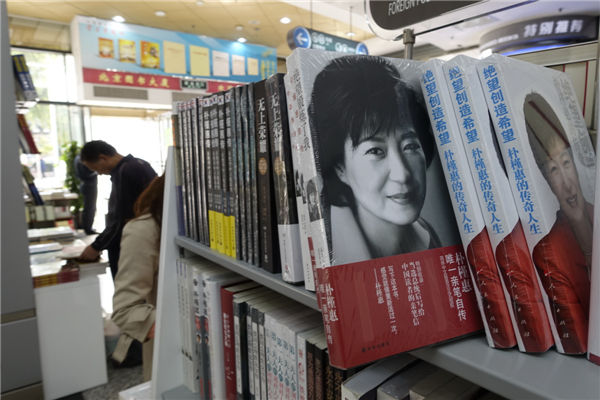 The Chinese-language version of South Korean President Park Geun-hye's autobiography is popular across many of China's bookstores. Photos by Kuang Linhua/China Daily
Chinese are devouring APEC leaders' biographies ahead of the Beijing meeting. Xing Yi reports on the trend.
APEC leaders' biographies are selling well in China before the heads of state come to Beijing for the key Asia-Pacific meeting next month, with books on Russian President Vladimir Putin and South Korean President Park Geun-hye topping the list.
More than a dozen books on Putin - he hasn't written an autobiography - are selling well at Beijing Xi Dan Books Building, one of China's biggest book stores. More than 60 titles on the Russian leader, such as Putin's Iron Fist, Putin: Perfect Man in Women's Eyes and The Charming King Putin, come up in searches on the country's biggest online bookstores, such as amazon.cn and dangdang.com.
Most biographies portray Putin as a strongman - masculine, decisive and versatile.
He Is Born for Russia - the best-selling book on Putin - has sold over 250,000 copies since its 2012 publication. The book is by Zheng Wenyang, who has also written biographies of Barack Obama, Margaret Thatcher and Nelson Mandela.
"I didn't expect my book to be a best-seller at first since there are many books about Putin out there," Zheng says.
"I think it's because my biography of Putin is more comprehensive and objective than others."