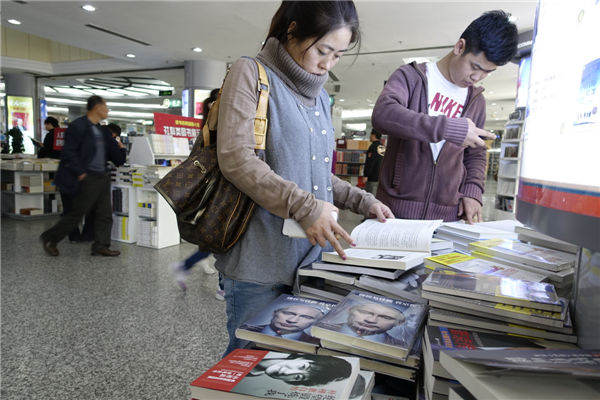 Biographies of APEC leaders can be easily found at Beijing Xi Dan Books Building, one of China's largest bookstores.
The sources of Chinese admiration for Putin are complicated, says Zheng Yu, a researcher on Russia at the Chinese Academy of Social Sciences.
But one point stands out: "Many Chinese think our country's diplomacy is too weak. So Putin's strong stance against Western countries has made him an idol among Chinese."
Another reason books about Putin sell well in China is that China and Russia share an amicable relationship.
Earlier this year, a collection of works on Putin, including his election manifestos, public speeches and answers at news conferences from 2012 to 2014 was published a week before he attended the Conference on Interaction and Confidence-Building Measures in Asia in Shanghai on May 20.
In 2008, when Putin had just finished his second term as Russian president, a collection of writings by him from 2000 to 2008 were published by China Social Sciences Press.
The publication of collected works by foreign leaders is very rare in China - only works by Lenin and Stalin were published as collections at the peak of the closest ties between China and former Soviet Union in the 1950s.