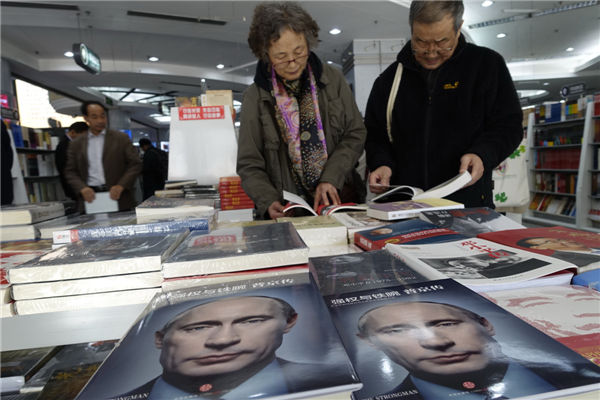 Russian President Vladimir Putin is always a hot topic for Chinese readers.
It wasn't until after Park was elected in 2012 that the Korean leader became a source of fascination for Chinese readers. All of the roughly dozen books about Park found in China's major bookstores were published after she became the country's leader. The most popular is the Chinese-language version of her 2007 autobiography Despair Trains Me and Hope Moves Me, published by Yilin Press in 2013.
Tian Zhi, director of Yilin Press' foreign literature branch, who was in charge of introducing Park's autobiography, says the publisher had been considering publishing the book before 2012.
"We didn't know whether Park would win the election, but we found the book very inspiring," Tian says.
"Park's life journey moves us and conveys a lot of positive energy."
Park recounts her early years of living in Chong Wa Dae, the Korean president's executive office and official residence, coping with her parents' assassinations and her quest to save South Korea from economic depression in 1997.
Her autobiography sold more than 500,000 copies in China and made the "25 Good Books in 2013" list compiled by China Central Television and China Book Review in April. Park's was the only book on the list by a foreign leader.
Tian says it was easy to procure the copyright because Park was happy to promote understanding between China and South Korea. She wrote a preface for Chinese readers in Yilin's version.