Shulan in NE China presents boutique rice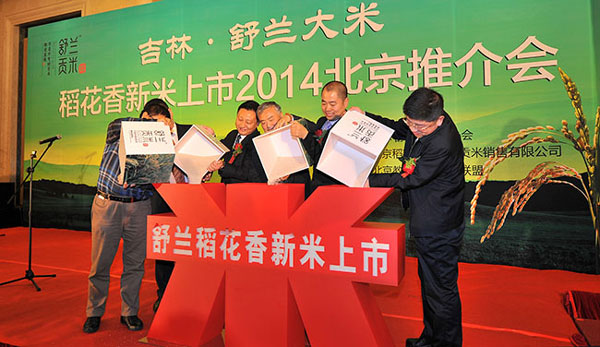 Press conference is held on Oct 18 in Beijing to introduce the rice from Shulan of Northeast China's Jilin province. [Photo/Xinhua]
When thinking of the best rice in China, most would think of Wuchang in China's Heilongjiang province. Due to its geological advantages, Northeast China produces some of the country's best crop. Now, Shulan, another city in the hometown of China's best rice, is making its name.
Shulan rice was registered as a Chinese Geographical Indications Product in 2009, and the local government has been actively promoting the brand in recent year in various forms, such as last week's Beijing press conference to promote the region's boutique rice.
Once mainly reserved for the imperial families during the Qing Dynasty, Shulan rice in Jilin province is less known by people compared with that of its neighbor Wuchang, which has already been well marketed and branded by the local government.
The quality of rice is decided by the geological location, climate, earth, light, rainfall and air. Wang Jingsong, deputy mayor of Shulan and chairman of Shulan Rice Association, believes that Shulan has all the natural conditions needed to grow the best crop.