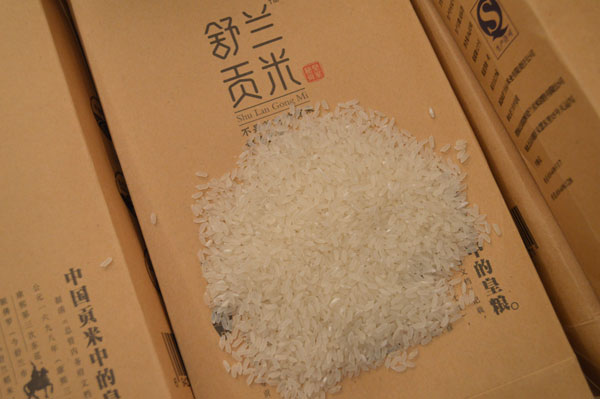 Rice from Shulan is displayed at a press conference held in Beijing on Oct 18 to introduce the crop from Northeast China's Jilin province. [Photo/Xinhua]
According to Wang, Shulan's fertile black earth is rich in organic matter and mineral elements, such as nitrogen and phosphorus, which are suitable for the crop. Located at the range of Changbai Mountain with a forest coverage rate of 65 percent, Shulan meets the national A level to grow green products for its air quality.
The city's latitude, 43-44 degree north, falls into the world's golden rice belt, which is between 40-45 degree north, which is also a base for many other famous rice production regions, including Heilongjiang's Wuchang, Xinjiang's Miqian and Japan's Hokkaido.
Shulan has a cultivated area of 1,380 square kilometers, with a stable yearly grain production of 1.2 million tons. In the past few years, rice processing companies have grown to 68, with a capacity to process more than a million tons each year.
The local government is also working with distribution companies in other cities to promote the products, as well as the place of origin – Shulan.
Chen Xiaozhong, general manager with Daohua Piaoxiang, the Beijing distributor of Shulan rice, said they plan to sell 2.5 million kilos of high quality Shulan rice in Beijing in 2015.