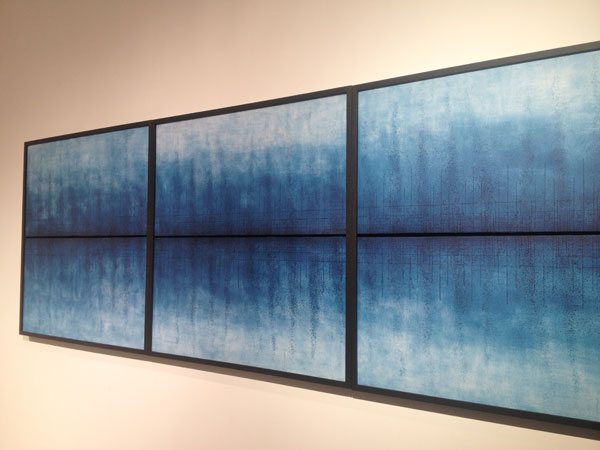 Urban Tide series,by Peng Yong. [Photo by Bi Nan/chinadaily.com.cn]
Young artist expresses his view of the urban city through his "blue" prints.
Born in a remote Miao village in the southwestern part of Hunan province, Peng Yong is deeply impressed by the traditional handicraft in his hometown. The local folk art scene is rooted in his childhood memory and propelled him to explore the art of printmaking, especially copperplate etching.
The copperplate etching process is quite complicated and requires a high level of ability, so much patience and perseverance is needed in its creation. Peng Yong loves it as he likes to be hands-on and is willing to hone his skill.
His works show a special beauty of order and an outpouring of sadness through the depiction of modern architecture. "Everyone is like a little dot, and moves along with the tide", Peng Yong says, pointing to one piece among his Urban Tide series.
The Urban Tide series is inspired from his urban living experience, Peng Yong said. The crowded subway, bus and throngs of people always make those living in the city anxious and restless.
Then he tries to describe the bustling world from a spectator's eyes by using the color blue, which carries the meaning of freedom and melancholy. "The pure blue, added with some black dots, deepens my sorrowful emotions, which are just the feelings what I want to express through my work", Peng Yong says at his solo exhibition in Yishu 8.
Peng Yong, a fresh postgraduate from the Central Academy of Fine Arts, now teaches at the Tianjin Academy of Fine Arts and is one of the Yishu 8 Award winners this year.
The award is set up to encourage young budding artists in China and France. The winning Chinese artists can get the opportunity to work at the Yishu 8 studio for two months and hold their own solo exhibition there. They also receive a cash prize from the Hermes Foundation.
If you go:
Yishu 8, Former Sino-French University, NO 20 (jia), Dong Huangchenggen Bei Jie, Dongcheng district, Beijing
+86 (10) 6581 9058
From Nov 02 to Nov 16