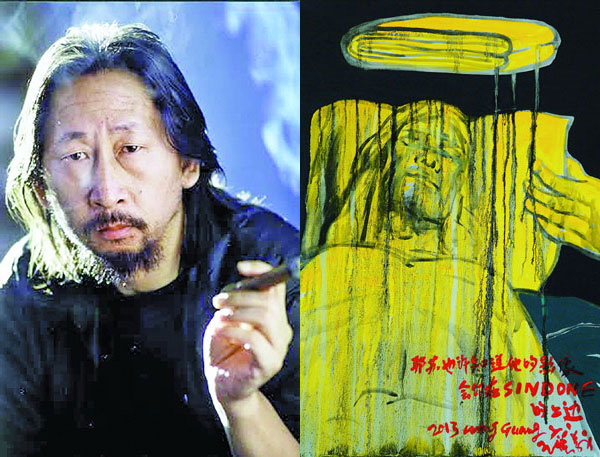 Artist Wang Guangyi (left) and one of his works displayed in Italy. Photo Provided to China Daily
Perusing a collection of unpublished works by the artist Wang Guangyi in a place like Ravello, the most peaceful and charming resort on Italy's Amalfi coast, is a fascinating experience.
If, on top of that, you are given the chance to talk to the 57-year-old Chinese artist, you will certainly have something to remember.
The originality and sophistication of Wang's works make him one of the most acclaimed figures in the contemporary international art world, his artistic role being an innovative path of praxis and thought.
Titled Viaggio in Italia (A Journey to Italy), the exhibition, which runs through Oct 31 at the Villa Rufolo, consists of about 50 works of art that trace Wang's relationship with Italy, starting from the artworks and installations that were created for the Venice Art Biennale last year. A large number of his new works are shown in a sort of embryonic form destined for further study.
Wang's relationship with philosophy is an intense one, ranging from Plato to Kant. The art critic Demetrio Paparoni, curator of the show and author of a biography on Wang, says: "In reflecting on Kantian thought, Wang has turned his research toward the essence of phenomena in the direction of what Kant called the 'thing-in-itself'."
Wang's work has erroneously been classified under the political pop genre, Paparoni says. "One of the main themes of Wang's art is 'transcendence' instead.
"He has reaffirmed on many occasions how his art would not make sense without accounting for its spiritual side, clarifying that the individual cannot live without faith, even when it is based on mythical traditions, on superstitions or the influence exerted by ideologies or the market."
Wang says faith "is a goal determined for individual survival, and at the same time, all faith is blind".
"The space between 'blindness' and 'goal' has the complexity of conflict. As an artist, this sort of complexity is of great interest to me," he says.