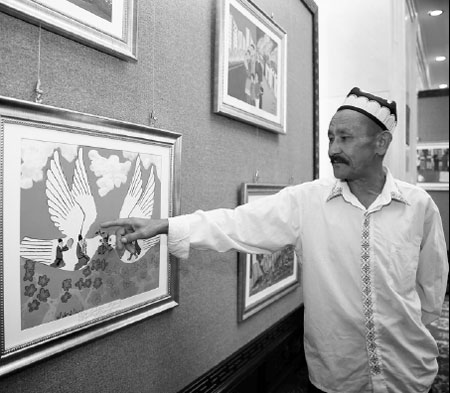 Wusiman Yiming, a farmer and painter from Xinjiang, explains his work at an exhibition in Beijing in August. [Photo Provided to China Daily]
Farmer and painter, Wusiman Yiming, has never heard of Pablo Picasso or Vincent Van Gogh. He has no idea about Chinese painters like Lin Fengmian and Li Keran. His art knowledge is confined to painters from his hometown of Makit county, in Xinjiang Uygur autonomous region. But this doesn't affect his creativity or passion for painting.
Yiming started to record what he saw by painting on walls and paper at the age of 15. His brush strokes brought the daily lives of Uygur people to life and depicted scenes of families eating meals, drinking tea or singing and dancing to celebrate a harvest.
In Yiming's works, the sky is often blue, green or yellow and the color of the earth can turn from red to gold. Ships and horses are painted bright yellow as the farmer says they appeared that way to him under the bright sunshine.
"I paint what my eyes see. I see no reason why the sky can't be red or green," says the 59-year-old, who had never left his hometown before his works were displayed in a show in Beijing in August.
Makit county in Kashgar prefecture has a tradition of producing talented artists and painters. The walls of family homes are covered in paintings of various styles and it is not unusual for people to complete the paintings on their walls before the rest of the house is built. After a day's work, farmers often paint on walls or paper to keep themselves entertained.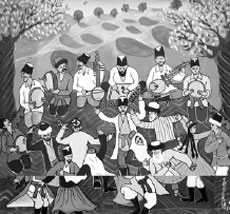 The area's painting tradition goes back more than 100 years, when a local shepherd accompanied a Swedish adventurer to cross a desert. He painted what he saw during his travels on sheepskin because he didn't know how to write. From then on, the painting tradition was passed down.
Tens of thousands of people paint in Makit county and the area attracts many tourists. Yiming is one of several hundreds of people who have become full-time painters.
He dropped out of school to be a farmer after middle school but his artistic passions continued. When he finished his farm work each day, he took lessons from a local painter. Since 1970, Yiming has painted more than 2,500 pieces.
Recently tourists have poured into his village to buy his paintings. One of his works sold for 4,000 yuan ($652), an astronomical sum for Yiming, after it was displayed in Beijing.
Although Yiming stopped farming to devote himself to painting wholeheartedly several years ago, he never anticipated his paintings would earn him so much.
"Painting is joyous. I feel very happy when my hands take the brushes," Yiming says.
The money Yiming earns from painting means he does not need to do farm work and can support his family better. However, he says his attitude towards painting would never change. That is, to paint for happiness forever.