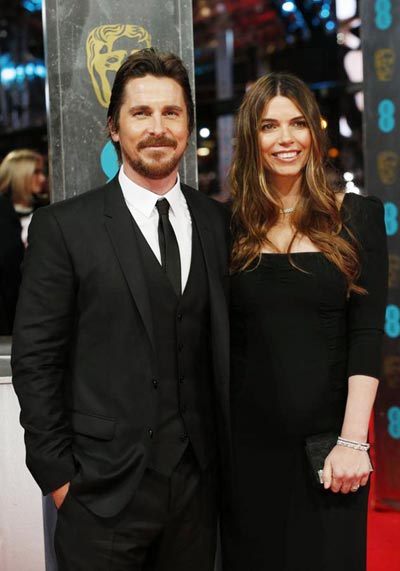 Actor Christian Bale and Sibi Blazic arrive at the British Academy of Film and Arts (BAFTA) awards ceremony at the Royal Opera House in London February 16, 2014. [Photo/Agencies]
British actor
Christian Bale
has pulled out of playing Apple founder Steve Jobs in the upcoming biopic about the tech mogul.
Entertainment trade publication Variety reports that Bale had talks with "Slumdog Millionaire" director Danny Boyle, who will helm the biopic, but a deal never emerged.
News of Bale's bowing out comes nearly two weeks after the film's screenwriter, Aaron Sorkin, told Bloomberg that the "Dark Knight" actor was a lock for the role of Steve Jobs.
Sony Studios, which is producing the picture, is looking for its lead man after Bale and actor Leonardo DiCaprio passed on the role.
The studio is reportedly in talks with comedic actor Seth Rogan to play the part of Apple co-founder Steve Wozniak.