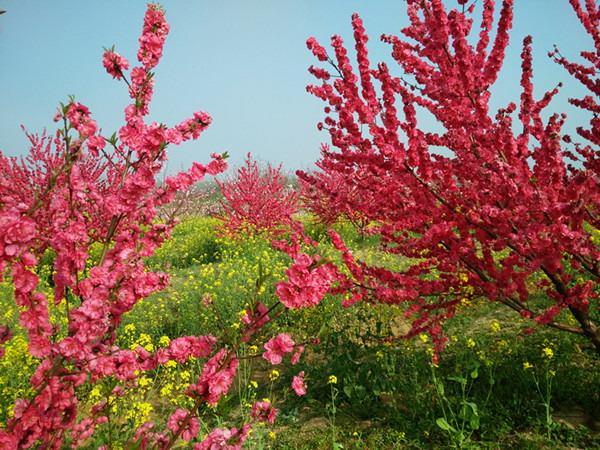 Beautiful spring near Cuigang Artist Village.[Photo provided to chinadaily.com.cn]
HEFEI: Hu Yang, a native of Hefei, returned after seven years of study in Canada and opened an art house --- rented for 15 years from a local farmer -- in Cuigang Artist village last year.
Sitting by a wooden desk outside the house, his satisfaction was evident: "The scenery here is beautiful. The ecology and excellent views help us to seek eternal beauty through art.
"It's different from the city. It is inspirational. Even during the hectic house renovation, I've done dozens of paintings. Back in Canada, I could not paint one in a year,"he said while sipping his tea and appreciating blooming spring flowers dancing in the wind outside the fence.
Located in Luyang district, Cuigang Artist village has become a magnet for artists since opening in November 2013. It now has 24 artists embarking on their quest to "seek eternal beauty".
With forest coverage of nearly 90 percent, Cuigang enjoys the scenic benefits of an outstanding location. With a river meandering gracefully and mountains looming large from afar, Cuigang has 1,380 farmers divided into 560 households. Only 15 kilometers from a thriving city center, it offers a natural breakaway from the hustle and bustle of Hefei.
Besides Hu, 52 others have signed contracts with farmers. So far, 16 houses have undergone extensive renovation. The Eight-House Photography Club, the Horizon Gallery and Wooden Courtyard Inn are all ready for business.