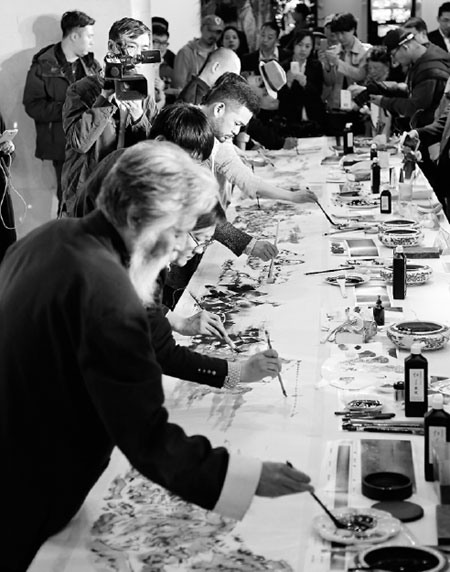 "Listed" artists are seen working on a copy of an ancient Chinese painting, when a new model for trading art, called "artists gongpan", was declared open on April 20 in Beijing. [Photo/China Daily]
With an approach like a stock exchange, a new platform gives ordinary art buyers a chance to discover underappreciated artists, reports Deng Zhangyu.
A new trading model for art went public on April 20 in Beijing, when 10 artists were listed on a stock - exchange-like market, a capitalized attempt to explore China's booming art market.
Called "artists gongpan", the model seeks to build up a new niche market targeting people who are interested in buying works of artists who are undervalued in the market. The word gongpan derives from jargon in the jade-trading market in China, where unearthed stones are shown for bidders who can offer a price.
In the new market, buyers can open an account on the platform and make purchases following artists, similar to what they can do on the stock market. Participants include artists, art dealers, financial institutions and art-service companies.
The capitalized art market is co-built by International Copyright Exchange and Yuansheng Cultural and Art Exchange based in Kunming, Yunnan province. The former is set up by the Copyright Protection Center of China, Beijing Equity Exchange and Beijing municipal government.
"Anyone who wants to invest in art can buy works of 'listed' artists every day. All the data of buying and selling is transparent and accessible to the public," says Luo Jiayuan, CEO of International Copyright Exchange.
"The waters of the traditional art-trading market in China are too deep to invest in. We offer a trading market where all information is open and real," adds Luo.
China's art market has long been criticized for difficulty in authentication, fake figures from auction houses and low liquidity. But the artists gongpan, says Luo, lists living artists, and all works sold through the trade platform are signed and authenticated by the artist himself.
After four years' research and preparation, the new trading model is based on four principles: no fake art, high liquidity, purchasing based on big data and appeal to the market instead of manipulation by some collectors or institutions, says Luo.