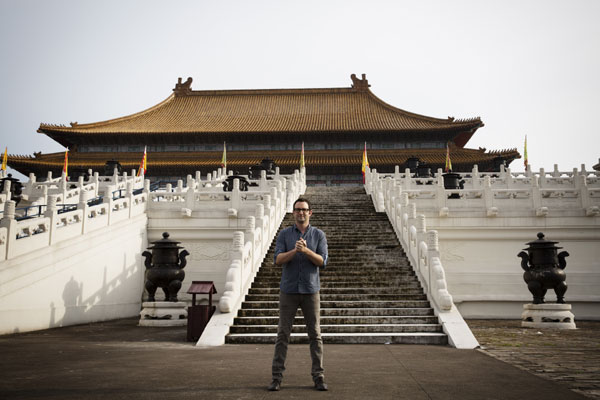 How China Works, coproduced by China International Communication Center and Discovery, is one of the latest international collaborations in making documentaries.[Photo provided to China Daily]
This year's Beijing International Film Festival had a section on documentaries, reflective of changes in Chinese viewing tastes, Han Bingbin reports.
Life Itself, a US production, won the best documentary award at this year's Beijing International Film Festival, which ends today.
Based on a best-selling memoir by the same name, the documentary explores the legacy of renowned movie critic Roger Ebert.
The Beijing festival launched a section on documentaries this year, when 30 internationally recognized productions, shortlisted from 411 initial entries, competed for the award. The final nominees had included The Salt of the Earth, co-directed by German cinema's new-wave pioneer Wim Wenders, and Tibet-themed Roof of the World, China's most recent popular documentary.
The move was intended to bring documentaries back to cinemas in China, where it is still a less recognized genre of art. Experts are optimistic about the future as Chinese TV has in the past few years begun to air more such productions. China Central Television's Channel 9, for instance, has grown in reputation even outside the country for its documentaries.
And newly launched satellite broadcasters such as the Beijing and Shanghai documentary channels, along with CCTV 9, will primarily stimulate the growth of local productions that have been looking for broadcast platforms, says Zhang Tongdao, the director for Beijing Normal University's documentary center.
Zhang's team has come up with the China Documentary Development Report 2015, according to which more than 45 percent of the documentaries shown on Chinese TV last year were local productions. This is in part owing to China's media regulator restricting the number of entertainment programs shown on prime time, Zhang says.
Chinese documentaries grossed a total of 3 billion yuan ($483 million) in 2014, the report said, adding that a total of 1.9 billion yuan was invested in making them and 22 percent of the amount came from private companies. Two public-private investment funds-each of 100 million yuan-were created last year.
"The financial sector started to shake hands with documentary makers in 2014. It shows the market's growing confidence in the future of documentaries in China," says Zhang.