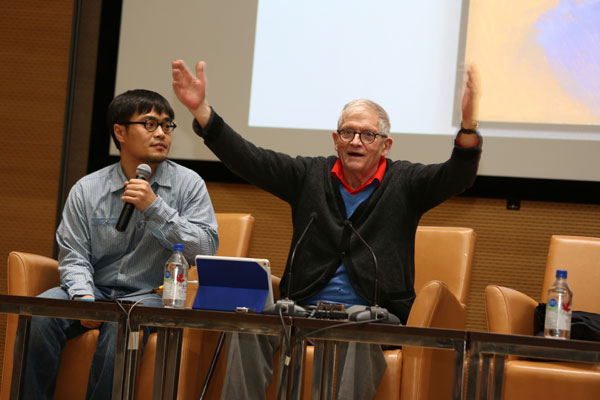 Hockney (right) gives a talk at the Central Academy of Fine Arts in Beijing while staying in the city for the opening of his exhibition, The Arrival of Spring.[Photo/China Daily]
David Hockney last visited China in 1981, but his recent trip to the capital proved he still has many fans in the country. Lin Qi reports.
On his first trip to China in 1981, David Hockney traveled throughout the country with poet Stephen Spender, doing drawings and taking photos for the book China Diary, that documented his trip.
His recent visit was much shorter, with the artist spending only a few days in Beijing for the opening of his exhibition, The Arrival of Spring.
The 78-year-old artist had a busy schedule during his visit earlier this month, giving dozens of interviews and two lectures at universities.
The opening of Hockney's exhibition on April 18, saw crowds of art lovers gathering outside the gallery Pace Beijing to get a glimpse of the artist's "iPad art". News of his exhibition had quickly spread via WeChat, the Chinese messaging service platform.
Hockney's talk at the Central Academy of Fine Arts created quite a stir. The subject - perspective should be reversed - drew on his lifelong fascination with points of view. The auditorium was packed and the talk was broadcast live to three other crowded venues at the school.
During the two-hour talk, Hockney, wearing a red shirt, a blue sweater and visible red socks, shared his obsession with perspective and how he presents different perspectives all in one painting, his "photo collage" works, or multiple - frame videos.
The high point came when he took questions from the audience, most of whom would not have been born around the time of the artist's last China visit. There was a feeling of excitement among the audience. A girl stood to ask a question, but overwhelmed by the moment, managed only to communicate in lengthy, bumpy English, before blurting: "We know you are gay ...".