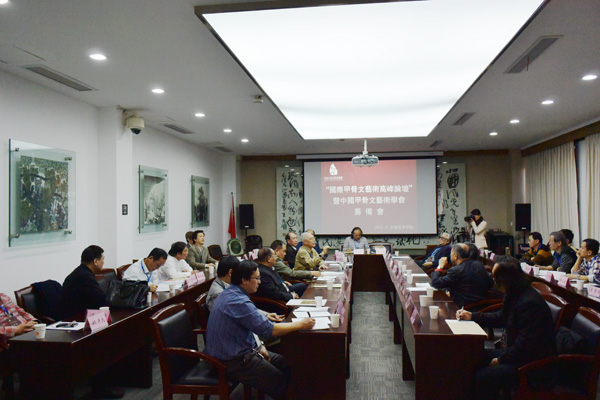 Experts specializing in the study of oracle bone inscription attend a forum in China Academy of Art in Hangzhou, in Zhejiang province, April 25, 2015. [Photo by Wei Yuncheng/provided to chinadaily.com.cn]
A forum on oracle bone inscription art was held recently at China Academy of Art in Hangzhou of Zhejiang province, with more than 50 experts attending the event from across the country.
The specialists discussed how to better preserve and carry forward the ancient characters which only existed in China.
As precious cultural heritage left by the ancestors, as well as an important part of world heritage, the research on oracle bone scripts is rising around the country, and even some foreign experts are showing interest in the ancient language.
To boost the research and art creation with respect to oracle bone inscriptions, China Academy of Art is establishing China's Oracle Bone Art Society, which will be dedicated to explore and integrate resources of oracle bone arts and to present the ancient characters artfully to common people.
Gao Fagen, former vice-president of China Academy of Art, Song Zhenhao, an academician from Chinese Academy of Social Sciences, and other renowned specialists in the oracle bone scripts field were present at the forum.
The event also announced Liu Jiang as the president of China's Oracle Bone Art Society, Wei Feng as executive president, and invited 11 experts, including Song Zhenhao, as the Society's counselors.