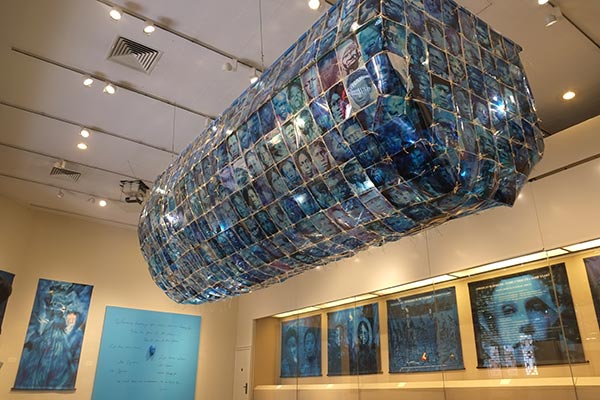 Slave Boat, woven with 500 real photos of African-American slaves, is on display at US multimedia artist Toni Scott's solo show in Beijing.[Photo by Xu Bocheng/For China Daily]
An LA artist's show in Beijing explores her multiethnic heritage. Lin Qi reports.
Los Angeles-based multimedia artist Toni Scott presents an anthropological case study of her family history at a solo exhibition in Beijing, entitled DNA - Bloodlines and the Family of Mankind.
She displays three installation pieces and a dozen digital prints inspired by her multiethnic background at the Arthur M. Sackler Museum of Art and Archaeology inside Peking University.
Scott traces her lineage to European immigrants, African slaves and Native Americans. She belongs to a tribal entity called the Muscogee Creek Nation that numbers about 70,000 in the United States.
She set up two installations that resemble tepees to celebrate the cultural richness of the some 500 federally recognized Native American tribes.
Scott drew totems, including warriors and animals worshiped by her tribe, such as jaguars and snakes, on the tepees' exteriors.
"The Muscogee people believed these totems were spiritual guardians, who empowered the citizens and drew away bad things," she says.
Scott also painted suns to represent the cosmos and moons in stages from waxing to waning to symbolize humankind's migrations. She replaced the tepees' wooden poles with bamboo poles as a tribute to the connection between the Asians and their descendants, the Native Americans.