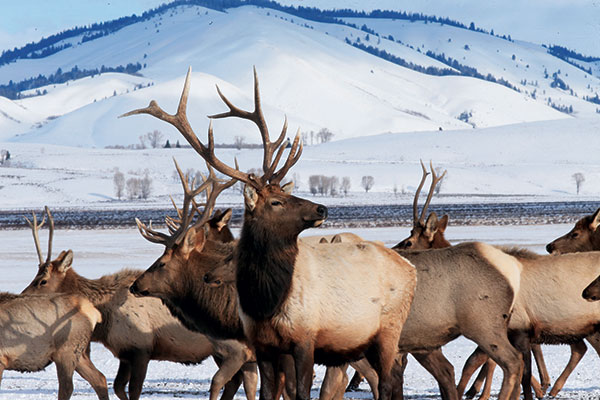 Wildlife in Jackson Hole in the United States are captured in Steven Clark Rockefeller Jr's photographs and Liu Zhong's ink paintings. [Photo provided to China Daily]
Chinese painter Liu Zhong and the fifth-generation Rockefeller family member Steven Clark Rockefeller Jr have jointly published A Warm Winter.
The book was launched in Beijing in June, and it focuses on the animals and landscape of Jackson Hole along the border of Wyoming and Idaho in the United States, where Liu and Rockefeller stayed together for a week in February.
This is what happens when an ink artist meets a photographer and both are interested in wildlife.
On the book's cover is a bald eagle standing on a rock painted in ink by Liu. On an inside page, the same bird is seen in real life in a photo taken by Rockefeller.
The book gives its readers many more eagles, deers, wolves, mountain goats and red foxes - all in photos and ink sketches by its two creators.
Liu is known for his paintings of animals, especially the giant panda. He is labeled "panda painter", and his panda paintings have toured the world.
"I was impressed by the landscapes and Rockefeller's deep love for his country and family," says Liu, adding that in the sleepy Western American town, the famous Rockefellers are treated as regular people.
Rockefeller has been collecting Liu's works for a while now.