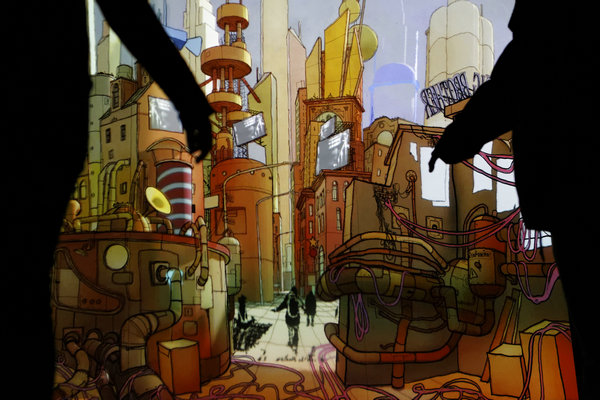 Visitors interact with the imaginary city and their reflections appear on the street of the 'city'. [Photo provided by French Embassy in Beijing]
As part of this year's Croisements Festival, the new media project Extrapolis was exhibited on June 11 in Beijing. The creative installation that combines art and technology opens a door for a world where fiction meets reality.
The Extrapolis program was initiated in 2013 by artists David Chanel and Olivier Bonhomme, who wanted to explore the relationship between people and the city through their creations. Two teams, Théoriz and Crew BKYC involved in the project, brought together engineers, animators, professional designers and illustrators.
Extrapolis represents an imaginary city in which the visitor can interact with the scene, which brings new vitality to the original work. The installation presents itself as a huge animated painting in a dark room. It is accompanied by an interactive soundtrack (reacting to the number of visitors and their position in space), which gives the visitor the impression of being in the heart of the city. Infrared cameras are also installed in the room in order to change the design according to the visitors' movements.
"The human shapes the city while the city shapes the human. That's the message we want to deliver," visual designer Raphael Dvpont said. He stressed that the work creates a simultaneously artistic and technological experience and that it makes people rethink their identity in the city.
The project is produced by AADN, an association focusing on digital arts and culture development. In 2013, the group contributed their interactive production The Standing Man and Sliced Ears to the Croisements Festival. This year, they hope to bring more artistic thought and reflection to cities like Beijing.
The Croisements Festival is organized by the French Embassy in Beijing. The annual event has attracted more than 8 million visitors since its founding in 2006.
The exhibition was held until June 13.